Motorcycle Accident Attorney in Glendora, CA
Motorcycles may be fun to ride, but they are some of the most dangerous vehicles on the roads regarding the risks their operators face. A motorcycle offers very little physical protection in a crash, and the rider is likely to be thrown from their bike when struck by another driver. These incidents often result in catastrophic injuries, and when these accidents occur due to negligence or intentional misconduct of other drivers, injured riders face difficult paths to recovery.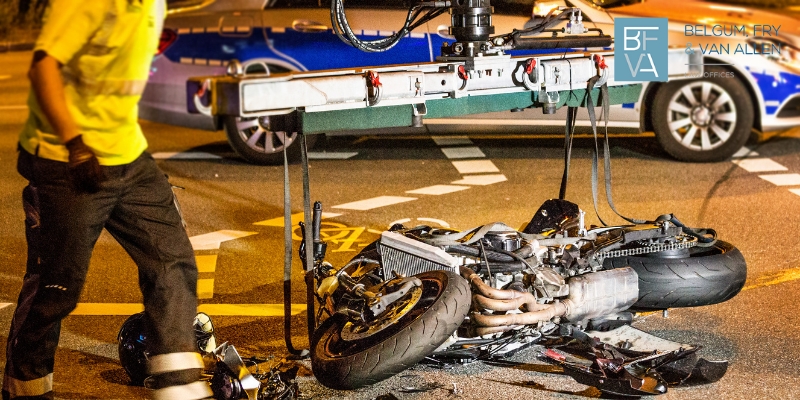 Representing Injured Motorcycle Accident Victims in Glendora, CA
If you or a loved one sustained injuries in a motorcycle accident that someone else caused, it's easy to feel isolated and uncertain about how to recover your losses. However, determining liability for the accident, navigating insurance claims, and building a personal injury case is much easier with the help of an experienced Glendora, CA motorcycle accident lawyer. Belgum, Fry & Van Allen has years of experience representing clients in complex personal injury cases, including those involving motorcycle accidents. As a result, we know the challenges victims of these incidents face and how to help them navigate their claims successfully.
Why Do I Need a Glendora, CA Motorcycle Accident Attorney?
Fault for your recent motorcycle accident may seem readily apparent, but there are several challenges you are likely to face if you try to handle your claim without legal counsel. For example, you would need to accurately calculate the total scope of your claimable damages, meet strict court filing deadlines, and deal with difficult insurance companies. In addition, you would need to do all these things while managing the aftermath of your accident, which may entail a painful recovery.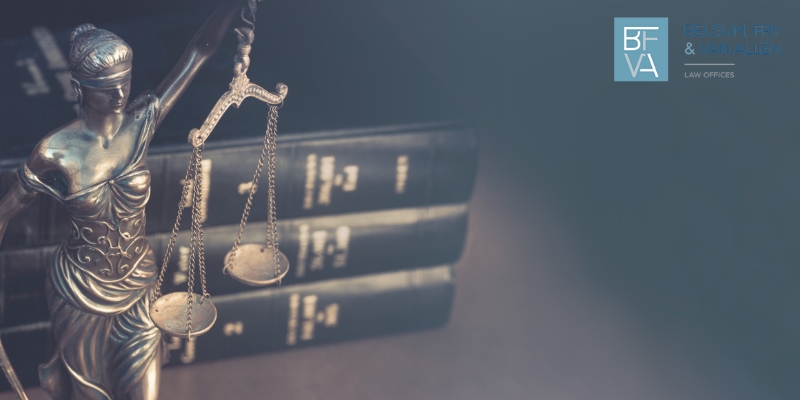 Instead of managing all these issues unassisted, hire an experienced Glendora, CA motorcycle accident lawyer to help you. Your attorney can not only make it easier for you to secure compensation through auto insurance but also help you build a personal injury claim when insurance isn't enough to fully compensate your losses. In addition, you can rely on the team at Belgum, Fry & Van Allen to provide comprehensive and responsive legal counsel through all phases of your personal injury case.
Common Causes of Motorcycle Accidents in California
Motorcycles are smaller and harder to see than larger passenger vehicles. They also lack safety features found in enclosed passenger vehicles, such as seatbelts and airbags. As a result, motorcycle accidents can easily occur due to poor visibility and other unexpected risk factors. However, when a motorcycle accident happens because of negligence, the injured rider has the right to file a civil claim against the driver responsible for causing the incident. Some of the most commonly reported causes of motorcycle accident claims in Glendora, CA include:
Driving under the influence (DUI). Drivers who violate California DUI laws and cause accidents face criminal prosecution as well as civil liability for victims' damages.
Distracted driving, which can easily result in motorcycle accidents because distracted drivers may not notice nearby bikes until it is too late to avoid collisions.
Speeding. Exceeding posted speed limits reduces the time and distance a driver has to slow down and avoid a crash. Accidents at higher speeds are likely to cause severe injuries and fatalities.
Illegal turns and other moving violations. Drivers who violate traffic signals and commit moving violations place themselves and others at risk.
There are many other ways for motorcycle accidents to occur, and when these incidents happen, the injured riders must exercise their legal rights to secure compensation for their damages. An auto insurance claim against an at-fault driver may only cover a portion of the rider's losses, and a successful personal injury claim can provide a fuller recovery.
Damages and Compensation in Motorcycle Accident Claims
California's personal injury laws allow plaintiffs to claim compensation for all damages caused by defendants in their cases. Unfortunately, motorcycle accidents cause severe injuries, even when riders have the best safety helmets and gear. Your Glendora, CA motorcycle accident attorney can assist you in filing an auto insurance claim against the driver who caused your accident and then proceed with building your personal injury case. A successful claim can help the plaintiff recover:
The costs of all medical treatments required to heal from their immediate and long-term injuries. Even the best safety equipment can only mitigate injuries in a motorcycle accident, not prevent them entirely. Therefore, many motorcycle accident victims require immediate lifesaving medical intervention and ongoing medical treatment to recover as fully as possible.
Lost income. A motorcycle accident can easily leave the victim unable to work for an extended period. They have the right to seek compensation for wages lost during this time. Additionally, if they are left permanently disabled and cannot work at all, they have the right to seek compensation for their lost earning potential.
Property damage. Auto insurance may only cover a portion of the cost of replacing a bike destroyed in a motorcycle accident. The victim's personal injury claim can include any remaining property losses.
Pain and suffering. California law allows personal injury plaintiffs to recover compensation for physical pain and emotional distress with no caps or limits on the amounts they can claim. A Glendora, CA motorcycle accident lawyer can help their client determine a fair amount to include based on the seriousness of their injuries and the long-term complications they face.
It's common for motorcycle accident victims to initially undervalue their claims, not realizing the full scope of the compensation they could obtain until they secure legal counsel. Therefore, when you choose Belgum, Fry & Van Allen to represent you in a Glendora, CA motorcycle accident claim, our goal is to help you recover as much compensation as possible for your damages.
You likely have many questions about your rights and legal options after a motorcycle accident in Glendora, CA. It's natural to feel uncertain and distressed about your situation, and hiring an experienced Glendora, CA motorcycle accident attorney is the best thing to do in this scenario.
If you are struggling in the aftermath of a motorcycle accident that someone else caused, our team can assist with your recovery. Contact Belgum, Fry & Van Allen, today to schedule your consultation with our firm.