Elder Abuse Attorney in Glendora, CA
Thousands of families throughout California rely on nursing homes, dedicated in-home caregivers, assisted living facilities, and various senior care organizations to provide safe and effective medical treatment and ongoing assistance to their elderly loved ones.
Unfortunately, many California elders experience abuse and mistreatment from those charged with caring for them. Elder abuse can take many forms and can lead to tragic consequences. If you believe your elderly loved one has been abused in a nursing home or other senior care center, you need legal counsel you can trust as soon as possible.
When our loved ones enter into a nursing home or assisted living facility, they should be well cared for.  Tragically, the elderly are often the victims of neglect at the hands of those they depend on for care.
This type of abuse, called elder abuse, can take many forms, including:
Neglect
Isolation or Abandonment
Dehydration
Bed Sores or Ulcers
If loved one has been a victim of elder abuse, take action today.  Together we can ensure that those who harm the elderly will be held accountable for their neglect.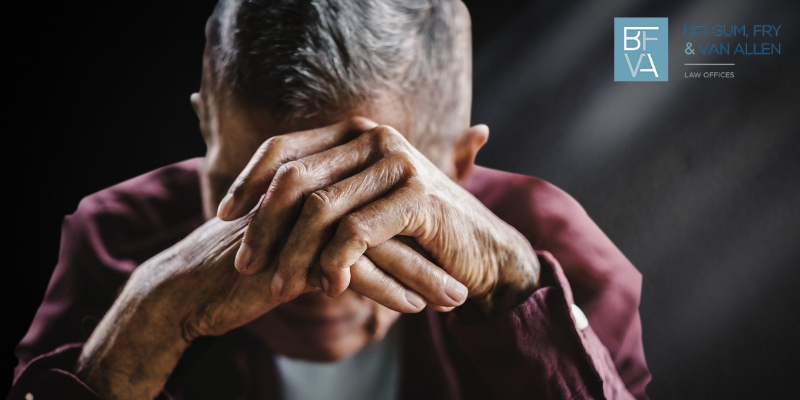 Legal Representation for Victims of Elder Abuse in Glendora, CA
The attorneys at Belgum, Fry & Van Allen have years of experience handling civil claims related to elder abuse in Glendora, CA. We understand the frustration and anxiety these cases can cause for victims and their families. However, we also know the scope of damages that can result from elder abuse, and it's our goal to help victims recover from these experiences as fully as possible. A successful elder abuse case can not only help you and your loved one recover compensation for your damages but also prevent others from experiencing similar mistreatment.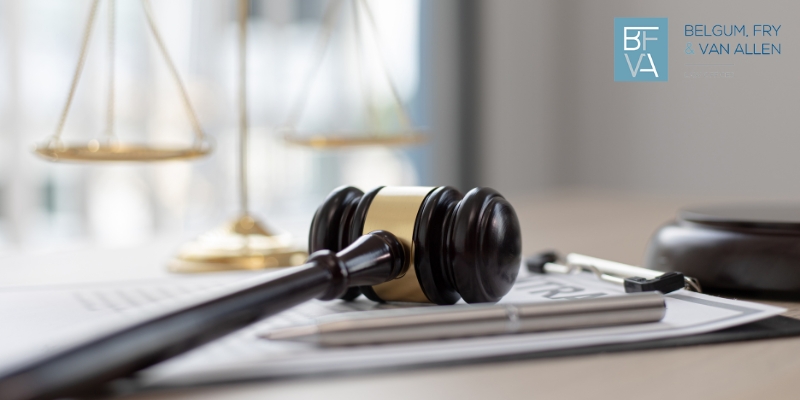 Why Should I Hire a Glendora, CA Elder Abuse Attorney?
Realizing that your loved one has been abused by the people you pay to care for them can be an incredibly distressing discovery. It's natural to feel an intense mix of frustration, confusion, and despair when you discover your loved one has been the victim of elder abuse of any kind. Attempting to navigate the legal proceedings this type of situation is likely to generate can be much more complex than the average person realizes.
Your Glendora, CA elder abuse lawyer can not only help you prove elder abuse but also hold the responsible parties accountable for your family's damages. The party responsible for your loved one's abuse is likely to owe a wide range of damages, both economic and non-economic. Your successful claim can help prevent the abuser from victimizing others as well. Instead of attempting to handle this complex situation unassisted, have an experienced Glendora, CA elder abuse attorney represent your family in your case.
The right legal team can help you and your family meet all applicable legal deadlines and increase your chances of success with the case. They can help you gather evidence and witness testimony, accurately calculate claimable damages, and coordinate with law enforcement and state prosecutors when an abuser has engaged in criminal acts. You are not only more likely to win an elder abuse case when you have legal counsel, but the entire experience is also more likely to be easier to manage with the right attorney on your side.
Types of Elder Abuse Cases We Handle
The attorneys at Belgum, Fry & Van Allen have extensive experience handling a wide range of elder abuse cases on behalf of Glendora, CA clients. Elder abuse takes many forms, including:
Physical abuse, including hitting, slapping, and intentionally using excessive force when moving and lifting elders.
Neglect, such as failure to provide food and water consistently, change clothes and bedding, and account for other daily living needs. Neglectful elder care can also lead to physical injuries such as slips and falls, often resulting in severe physical injuries to victims.
Emotional abuse and terrorization. Many elders live in fear of their caregivers, and abuse need not be physical to qualify for legal action. However, if your elderly loved one has been psychologically tormented by a caregiver or otherwise emotionally abused, you need to immediately speak with a Glendora, CA elder abuse attorney.
Sexual abuse. Some elders are subjected to sexual assault and other perverse treatment from caregivers. Abusers guilty of this type of behavior are likely to face significant criminal penalties.
Financial exploitation. Elders are often victims of theft, identity theft, and various types of fraud that can result in tremendous financial losses for the victim and their family.
No matter what type of abuse your elderly loved one has experienced, the team at Belgum, Fry & Van Allen can help you determine your best legal options for handling the situation and holding the abuser accountable.
Some elder abuse claims involve singular defendants, while others pertain to multiple defendants. A single caregiver can face liability for elder abuse damages, but it is also possible for their employer to face liability as well. For example, if a caregiver abused an elder but the nursing home that employed them never conducted a proper background check or failed to provide adequate job training, the nursing home may be liable for the victim's damages alongside the caregiver. In light of the COVID-19 pandemic, many homes have paused crucial inspections leading to precarious situations.
Recovering Compensation for Elder Abuse
Many elder abuse cases pertain to significant financial losses. Ongoing physical abuse and neglect can necessitate expensive medical treatment. Psychological and sexual abuse can be emotionally traumatic and require ongoing counseling and other treatments. Financial exploitation can lead to significant economic losses. Ultimately, the damages available from your elder abuse case could be more extensive than you initially expect.
An experienced Glendora, CA elder abuse attorney can help their client determine the full scope of the losses they can seek in their claim. It's common for plaintiffs in elder abuse cases to undervalue their claims at first, only realizing the full extent of the damages they can recover once they have experienced legal counsel on their side.
Your Glendora, CA elder abuse lawyer can help you and your family recover compensation for medical expenses, lost income, and pain and suffering caused by the defendants in your case. Belgum, Fry & Van Allen strive to maximize our client's recovery in every case we accept.
Our team will thoroughly investigate every facet of your claim and help you understand the full scope of damages you can receive if successful. The sooner you secure legal counsel, the sooner you can begin building your elder abuse case on behalf of your loved one. If you are ready to learn more about your options for legal recourse, contact Belgum, Fry & Van Allen today to schedule a consultation with an experienced Glendora, CA elder abuse attorney.