West Covina Personal Injury Attorney
No matter your situation, safety is a top priority. Many people spend a significant amount of time, money, and effort ensuring their personal safety and security. Unfortunately, other people's actions can put your safety, wellbeing, and future at risk. You may find yourself dealing with an injury or disease that was caused by someone else through no fault of your own.
Fortunately, the law allows you to take action if someone else's negligence causes you harm. Personal injury claims give you the grounds to seek compensation for medical bills, lost income, and other expenses after an accident. With the help of a qualified personal injury lawyer, you can navigate your personal injury case with expertise and confidence.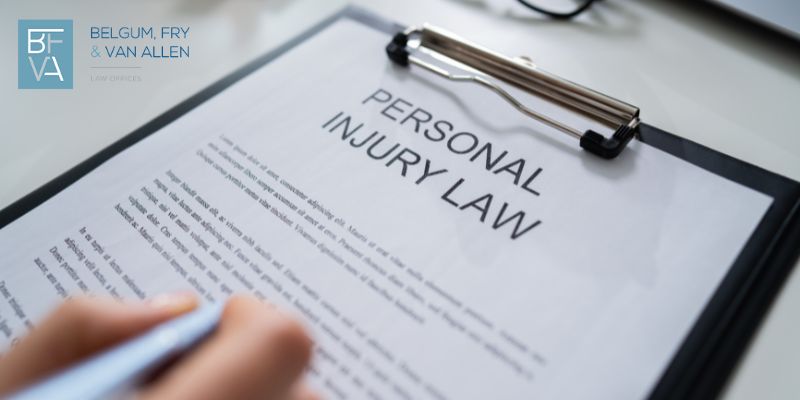 Belgum, Fry & Van Allen: Your West Covina Personal Injury Attorneys
When searching for a personal injury attorney to represent your case, it is important to find a team that is qualified, experienced, and understands your situation. Our team fulfills all these requirements, and we can ensure that you have the best chance of winning your claim. For many years, our expert attorneys have been representing clients during the most painful and vulnerable parts of their lives. Our history of success proves that we are your top option in the West Covina area.
We are tough in the courtroom because we believe that your personal liberty is worth fighting for. No one else should be able to cause an accident or injury without facing the consequences. Our mission is to hold all responsible individuals accountable and ensure that our clients get the best possible results from their personal injury claims.
When it comes to personal injury and accident lawyers, our team is your best choice in the West Covina neighborhood.
What Are Personal Injury Accidents?
Personal injury law is a significant part of the legal system, but many people do not understand their rights and responsibilities under these laws. A personal injury claim allows the victim of an accident to press charges against the individual responsible. This can happen in many different situations. Some common types of personal injury claims include:
Car, motorcycle, truck, and pedestrian accidents
Slip and fall accidents
Medical malpractice
Dog bites
Premises liability
Wrongful death
In these situations, it is easy for one person's actions to result in an injury, which is why they are common categories for personal injury claims.
Negligence is the key to personal injury claims. To receive compensation, you and your attorney must prove that another person was behaving negligently or otherwise disregarded their legal responsibilities. You must also prove that your injury or accident was a direct result of the person's negligence.
For example, if you are in a car accident, you may have a personal injury claim if you can prove that the other driver caused the accident by texting while driving. Texting while driving is a violation of the law, as it is a form of distracted driving. In this case, the driver neglected their legal responsibilities and caused an accident.
Without negligence, personal injury cases cannot be successful. If everyone was following the law and adhering to their responsibilities, it would be impossible to hold an individual accountable for an accident.
Why Do I Need a Personal Injury Attorney?
Personal injury cases are often complicated. Although the situation may seem straightforward to you, the court needs specific evidence and proof to hold the defendant responsible. It is difficult to give this proof and argue a case without significant training and experience. If you do not hire an attorney to do this job for you, you will likely be unable to successfully win your case in court.
There is a lot at stake during personal injury claims. If you win, you may receive compensation for your medical bills, lost income from time spent away from work, vocational retraining, and more. The sum can be significant, especially if your experience was particularly gruesome. With so much money on the line, it is best to give yourself every advantage to improve your likelihood of winning. This includes hiring a qualified attorney to represent you.
Finally, it is important to note that you will be healing as your case moves forward. Depending on your injury, you may need significant rest and recovery if you wish to return to normal. Adding stress and anxiety by representing yourself in court will only hinder your progress and make it more difficult for you to heal. Some people even cause permanent damage when they refuse to rest and recover properly. It is best to leave the stress of legal representation to a professional.
Proving Negligence in a Personal Injury Claim
To win your personal injury claim, you and your attorney must prove that negligence was involved. In some situations, this may be straightforward, while in other situations it may be more difficult. Key evidence is necessary to properly prove negligence. Common pieces of evidence include:
CCTV or video footage of the incident
Photos of the accident scene
Photos of injuries
Medical records and doctor's reports of the injuries
Eyewitness accounts of the event
There may be other pieces of evidence that are relevant in your case. The best way to preserve your case is by taking photos, videos, and noting witnesses at the time of the event, if possible.
Common Personal Injuries in West Covina, CA
Although all personal injury claims are different, there are certain ailments that are common in this field. We often see:
Traumatic brain injuries (TBIs), including concussions
Lacerations
Broken bones
Spinal cord injuries, including paralysis
Burns
Dental injuries
Infections
If you experience one of these ailments after an injury, it is important to act right away. You may have a personal injury claim, and it is important to begin building your case quickly.
FAQs About West Covina, CA Personal Injury Law
What Percentage Do Most Personal Injury Lawyers Take?
All personal injury lawyers charge differently for their services. While many charge hourly, others charge a percentage of the final settlement amount. It is imperative that you discuss fee structures with any potential attorneys that you interview. This ensures that you can afford their services for the entirety of your case. This will give you the best chance of winning your settlement. The average percentage that attorneys take is 33% of the settlement.
Will I Get More Settlement Money With a Personal Injury Lawyer?
No. Although you may feel as though representing yourself will save you money, in reality, you are far less likely to get a proper settlement without an attorney. If you do get a settlement, the amount is usually much lower. When you hire an attorney, you must pay attorney fees. However, your lawyer may be able to negotiate a higher settlement amount, which ultimately means more compensation for you. Hiring an attorney is often financially advantageous in personal injury claims.
How Can a Personal Injury Attorney Help You?
A personal injury attorney is an asset in many ways during your claim. We are responsible for taking your statement and listening to your story. After this, we will begin to collect evidence that supports your claim and proves that the other person behaved negligently. With the evidence we collect, we will create an argument for the court that best proves that you deserve compensation. This process can be lengthy, and it is beneficial to have an attorney do it.
Can I Make a Personal Injury Claim If I Get Hurt at Work?
Workplace accidents are complicated. In many situations, workers' compensation will cover your medical bills. However, under this system, you cannot bring a personal injury claim against your employer if they are already providing workers' compensation. However, if a third party, such as a coworker or vendor, was involved in the accident, you may be able to file a personal injury claim against that individual to receive additional compensation for your injury.
What If a Personal Injury Prevents Me From Returning to Work?
If your injury prevents you from working in your chosen profession or career, your settlement should account for vocational retraining support to help you find a different field. This may be money to return to school, learn a new skill, or train for a new position within your company. This money is essential for many people who suffer serious injuries, especially if their previous profession required a significant amount of physical or manual labor.
Contact Belgum, Fry & Van Allen
Personal injury law can be confusing, intimidating, and discouraging. Do not go through this process alone. With the help of an attorney, you can gain a better understanding of your rights, build a compelling case, and achieve the compensation and support that you deserve. No one should have to pay for an injury that was not their fault. Our team is here to help make this a reality and give you and your family the support you need during this difficult time.
For more information about our firm, our history, or our services, please contact Belgum, Fry & Van Allen online today.