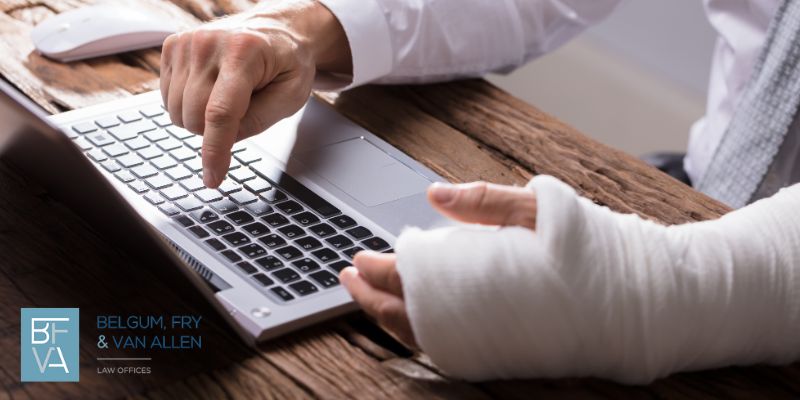 Los Angeles Personal Injury Attorney
Every day in Los Angeles, thousands of people sustain all types of personal injuries due to the negligence and intentional misbehavior of others. "Personal injury" is a legal term to define any situation in which one party's actions have caused harm to another. This could take the form of physical injuries, illness, economic losses, or a combination of damages. It's common for the full scope of a personal injury's effects to take time to become apparent, and many victims of personal injuries are left wondering how they can recover from their experiences.
Helping Los Angeles, CA, Clients Recover From Their Personal Injuries
If you believe any other party is at fault for harming you or a family member in Los Angeles, a personal injury attorney is the ideal resource to consult to determine your options for legal recourse. Belgum, Fry & Van Allen is a team of seasoned attorneys who have helped many past clients recover substantial case awards from those responsible for their injuries. We can put this professional experience to work in your case, helping you uncover every channel of compensation to maximize your recovery. If another party is responsible for the personal injury you recently suffered, we can help hold them responsible and secure the case award you need to recover.
Benefits of Hiring a Los Angeles Personal Injury Attorney to Represent Your Case
It is technically possible to handle a personal injury claim on your own, but you would be forced to meet demanding procedural rules while simultaneously managing your medical needs and everyday responsibilities to your household. Even if you were able to succeed, you would risk settling for far less than an attorney could have obtained on your behalf. When you hire legal counsel that you can trust, this allows you to recover with peace of mind while your attorney handles your case proceedings on your behalf.
The attorneys at Belgum, Fry & Van Allen have the experience and resources needed to handle the most complex personal injury cases. When you hire our firm to represent you, you will immediately have access to a legal advocate who can answer your questions, address your concerns, and provide guidance for approaching each new phase of your case. Our team can assist you in gathering the evidence needed to prove fault for your personal injury, prove the full scope of the damages you suffered, and then help determine the optimal path toward recovering compensation for those losses.
You may have some idea of how much your claim is worth and how to hold the defendant accountable for their actions, but any personal injury claim has the potential to escalate into a very complex civil case that demands the attention of an experienced attorney. When you choose Belgum, Fry & Van Allen as your Los Angeles personal injury attorneys, we will seek to settle your case for the maximum amount of compensation possible if we can, but if litigation is necessary to win your case, we are fully prepared to represent you in court.
Common Types of Personal Injury Cases Our Firm Represents in Los Angeles
A personal injury can arise from any type of negligence or intentional misconduct. When another party has hurt you, and you intend to pursue legal recourse to recover your losses, you need an attorney who not only has experience handling personal injury claims but also specific experience handling cases like yours. A few of the most common types of personal injury cases our firm represents include:
Car accidents, which are a leading cause of personal injuries in Los Angeles each year. After a car accident, the driver responsible for causing the collision must repay the victim's damages. All drivers in the state must have auto insurance that meets basic coverage requirements, and an insurance claim is usually an essential first step in the victim's recovery efforts. Your Los Angeles personal injury attorney can help file your insurance claim and maximize the compensation you receive, but if you can't recover fully from insurance alone, they can assist you with filing a personal injury claim against the at-fault driver.
Truck accidents. Large commercial trucks can inflict devastating damages to other motorists, and truck accidents can also raise difficult questions of liability. The truck driver and/or their employer could bear liability for the accident; it is also possible for a third party to share blame for the damages you suffered. Because it's possible for more than one party to bear fault for this type of collision, navigating the legal aftermath of any truck accident in Los Angeles will be much easier with an attorney's assistance.
Motorcycle accidents. Motorcycles are very popular in Los Angeles, but they are inherently dangerous vehicles. Their lack of safety features means riders are virtually defenseless from crash impact forces. Motorcycle accidents may be less common than standard passenger vehicle accidents but carry a much greater chance of severe or fatal injuries.
Premises liability. If you or a family member suffered a slip-and-fall or similar accident on someone else's property, you may have grounds to file a premises liability claim against the property owner. All property owners are legally required to ensure their properties are safe for lawful guests and visitors, addressing any foreseeable safety hazards they notice when they become aware of them.
Elder abuse and nursing home negligence. Many people trust nursing homes and assisted living facilities to care for their elderly loved ones, but sometimes caregivers are negligent or outright abusive to those in their care. If your elderly loved one has suffered abuse or neglect in a Los Angeles nursing home, our team has extensive experience with nursing home abuse and neglect cases and can help you ensure accountability for their mistreatment.
Catastrophic injury claims. Unfortunately, some personal injuries result in permanent harm. If you or a loved one developed any permanent disability due to a defendant's misconduct or negligence, you need a Los Angeles personal injury attorney who can handle the complexities of your case and maximize your total compensation. You have the right to hold the defendant accountable for the entire spectrum of immediate and future losses they inflicted with their actions, and the pain and suffering compensation you receive from a successful catastrophic injury claim could overshadow the rest of your recovered damages.
Medical malpractice. If you or a loved one suffered harm from the negligence of a medical professional, this could form the basis of a medical malpractice suit in Los Angeles. This type of personal injury claim is subject to specific rules, and recovery is somewhat limited compared to most other personal injury claims. If you intend to file a medical malpractice claim in Los Angeles, it is crucial to secure legal counsel from an attorney who is experienced in handling this type of case.
No matter what type of personal injury your case entails, the first step in recovering compensation for your damages is proving fault. You must identify the party who caused your injury and prove their negligence or intentional misconduct caused actual harm or tangible and measurable losses that would not have happened otherwise.
Belgum, Fry & Van Allen can assist you in meeting this burden of proof. Successfully proving liability for your personal injury could entail physical evidence from the location where your injury occurred, various types of digital records, and testimony from witnesses who saw the injury happen firsthand.
In a personal injury case filed in response to a damaging act of negligence, proving negligence requires proof that the defendant held a duty of care that they breached in some way, and the plaintiff must also prove this breach of duty caused actual harm. Alternatively, if a personal injury results from any intentional misconduct, the state could file criminal charges against the defendant. If this applies to your situation, a Los Angeles personal injury attorney can advise you as to how the state's criminal case against the defendant could impact your recovery.
Proving Your Damages in a Personal Injury Case
The objective of a personal injury claim is for the plaintiff to recover the compensation they need to recover as fully as possible from the damages they suffered. Most personal injury claims involve economic and non-economic damages, and there is a possibility for punitive damages to come into play if a defendant's behavior is illegal or exceeds the definition of standard negligence.
Economic damages are the most straightforward element of a plaintiff's case award and include the direct financial effects of the defendant's actions. Commonly cited economic damages in a personal injury case are medical expenses, property damage, and lost income. If the defendant physically harmed you, they are responsible for the cost of all the medical care you require to reach maximum medical improvement from your injury. This includes both immediate and long-term medical expenses you incurred during treatment, such as hospital bills, ambulance fees, and the cost of rehabilitative care you need to restore functional capacity.
Similarly, you may have grounds to seek compensation for both lost income and lost future earning potential. If the defendant's actions left you unable to work for any length of time, they are liable for the wages you lost during this time. If your injury was severe enough to leave you permanently disabled, you may be unable to resume working at all. In this case, the defendant is also responsible for the income you are no longer able to earn, and your Los Angeles personal injury attorney can help calculate how much income you reasonably could have earned if the defendant had not injured you.
Property damages include the total cost of the property the defendant damaged or destroyed with their actions. Depending on how your injury occurred, it may be possible to recover some of these losses through insurance. For example, if the defendant caused a car accident, you could file a claim against their auto insurance, which is legally required to include property damage liability coverage. Any property losses you cannot recover through insurance can be added to your personal injury claim as economic damages.
Understanding Pain and Suffering Compensation for a Personal Injury in Los Angeles
When the average person hears the term "pain and suffering," they may think it would be difficult to assign a monetary value to something intangible like physical pain or psychological suffering. The state does not limit how much a plaintiff can seek in repayment for these abstract losses, with the exception of medical malpractice cases. If your personal injury case falls outside the purview of medical malpractice, there is no limit on how much you can seek from the defendant, but the amount sought should be reasonably reflective of the severity of your condition following the accident.
Your Los Angeles personal injury attorney might use the multiplier method to calculate appropriate pain and suffering compensation if you sustained a serious life-changing injury. This is done by multiplying your total economic losses by a factor that represents the severity of your condition, usually one to five. If you are expected to make a full recovery, your attorney might instead seek a pain and suffering settlement based on the length of time it takes you to recover. They can determine a fair amount of daily compensation and then multiply this amount by the number of days it takes you to fully recover.
Many personal injury plaintiffs recover more in pain and suffering compensation than they recover for their economic losses, especially if they have been permanently disabled. If your personal injury resulted in any long-term or permanent harm, your Los Angeles personal injury attorney is likely to seek several times the total of your economic losses in pain and suffering compensation.
Punitive Damages and Other Factors That May Influence Your Case Award
Punitive damages, as the name implies, aim to punish a defendant for their behavior. If the judge handling your civil case believes the defendant's behavior exceeded the definition of typical negligence, they may award you punitive damages based on the financial status of the defendant. Wealthier defendants tend to pay more in punitive damages in such cases. Alternatively, if the state opens a criminal case against the defendant, the judge who handles their sentencing could award you restitution as part of their penalty.
While the defendant's criminal behavior could enhance your final case award beyond your economic and non-economic damages, any fault you share for causing the incident in question may diminish it. California enforces the pure comparative negligence rule, which comes into play whenever a plaintiff shares liability with a defendant for causing their claimed damages. When this rule applies to a personal injury case, the plaintiff will have their final case award reduced by a percentage. The judge assigns each liable party a percentage of the total fault for the incident in question, and the plaintiff's fault percentage is their penalty under the comparative fault rule. For example, 10% plaintiff fault means the plaintiff loses 10% of their total compensation, and it's possible under the pure comparative fault rule for the plaintiff to be found 99% at fault and still recover 1% of their claimed damages.
Resolving Your Personal Injury Claim in Los Angeles
Once you have proven liability for your personal injury and your Los Angeles personal injury attorney has helped you calculate your claimable damages, you are ready to file your civil suit with the court. At this point, the defendant may accept responsibility for their actions and seek a settlement, or they could deny fault for your injury and demand a trial. When the defendant's fault is clear, it behooves them to seek a swift settlement, as this will save all parties involved time and money on legal fees. When a personal injury case goes to litigation, a judge will have the final word when it comes to fault for the plaintiff's injury and how much compensation the defendant must pay them.
The attorneys at Belgum, Fry & Van Allen have years of experience helping our clients in Los Angeles through all types of civil claims for damages. Our goal is to help you recover as fully as possible as quickly as possible, so we will seek to settle your claim against the defendant efficiently. However, if settlement is not an option for any reason, our team has the experience and resources necessary to guide you through tough litigation successfully. Ultimately, every personal injury plaintiff will have a different experience in their recovery efforts, but trustworthy and experienced legal counsel is an essential and effective asset for any plaintiff.
FAQs About Los Angeles Personal Injury Laws
Why Do I Need a Los Angeles Personal Injury Attorney?
It may be possible to file a personal injury claim without legal counsel, but you have significantly better chances of winning your case with an attorney's help. Your Los Angeles personal injury attorney can handle all your legal affairs on your behalf so you can focus on recovery. They can uncover every channel of compensation so you can maximize your recovery and shorten the time it takes you to recover the compensation you legally deserve.
How Much Is My Personal Injury Claim Worth in Los Angeles?
When another party is responsible for causing a personal injury, you have the right to seek accountability for any and all damages you suffered because of their actions. Under California's personal injury statutes, you have the right to claim compensation for medical expenses, lost income, property damage, and your pain and suffering. Many variables can also affect the final case award you obtain from a successful personal injury suit, so consult an experienced Los Angeles personal injury attorney right away for an estimate of your claim's potential value.
How Long Do I Have to File My Personal Injury Claim in Los Angeles?
The state enforces a two-year statute of limitations for personal injury cases. This means you need to file your claim within two years of the date your injury occurred, or you lose your ability to claim compensation from the defendant. If two years seems like more than enough time, remember that it will take time to compile the documentation you will need to submit your complaint to the court. It is advisable to start your claim filing process as quickly as possible after a personal injury occurs in Los Angeles.
What if a Personal Injury in Los Angeles Is Fatal?
Unfortunately, not all victims of personal injuries survive. When a victim of another party's negligence or misconduct dies, their surviving family members can file a wrongful death claim instead of the claim for personal injury they would have filed had they survived. Such a claim shares many procedural similarities with a personal injury claim but with several notable exceptions. The wrongful death suit will aim for compensation for the victim's family, including the lost monetary support the deceased provided and the pain and suffering they experienced.
How Much Will It Cost to Hire a Los Angeles Personal Injury Attorney?
The attorneys at Belgum, Fry & Van Allen accept personal injury cases in Los Angeles with a contingency fee agreement. Our client is not required to pay legal fees upfront, nor do they pay any ongoing fees as their case unfolds. We do not take a fee at all if we are unable to secure compensation for their damages for any reason. Our contingency fee is a percentage of the total amount of compensation we recover for the client, and they only pay once we win their case. This billing policy eliminates any financial risk to you by hiring our firm to handle your claim.
The attorneys at Belgum, Fry & Van Allen are ready to provide the compassionate legal representation you need for your personal injury claim in Los Angeles. We have helped many past clients recover sizeable case awards and are often able to exceed clients' expectations for their recoveries. Whatever your case entails, we can be the comprehensive legal support you need to reach the optimal outcome for your case. Contact us today and schedule your free consultation with a Los Angeles personal injury lawyer you can trust with your recovery.