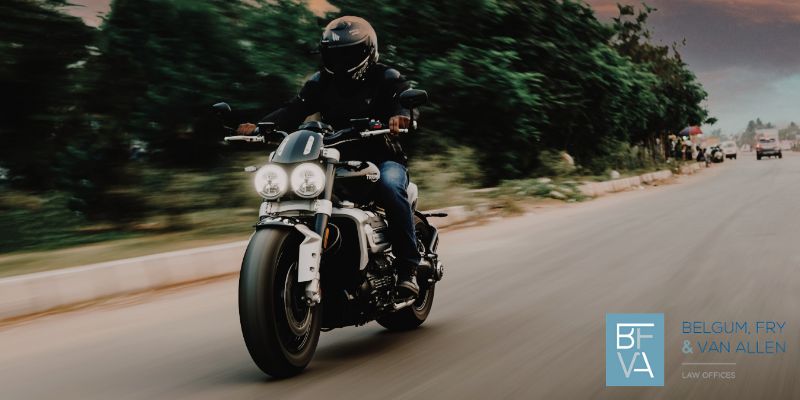 Rancho Cucamonga Motorcycle Accident Attorney
Many people enjoy riding motorcycles throughout Rancho Cucamonga and the rest of the state. Unfortunately, motorcycles are some of the most dangerous vehicles to operate, and motorcyclists should always be aware of their high degree of risk on the road. Even riders who remain cautious can't account for everything on the road. A Rancho Cucamonga motorcycle accident lawyer can help you if you sustain a motorcycle accident injury.
When motorcycles get in an accident with passenger cars and other large vehicles, motorcyclists are much more likely to receive catastrophic or fatal injuries. If you or a loved one was injured or killed in a motorcycle accident caused by the negligence or misconduct of another driver, you are legally entitled to financial compensation for your losses.
Effective Legal Representation for Victims of Motorcycle Accidents in Rancho Cucamonga
A motorcycle accident can cause devastating injuries. Filing a car insurance or personal injury claim may be necessary to ensure your financial stability, but it can feel overwhelming to begin the process while you're recovering. By working with an experienced attorney, you can give your claims their greatest chance of succeeding and earning you the maximum possible compensation. Working with an attorney also enables you to recuperate while they handle your claim.
At Belgum, Fry & Van Allen, our experienced team of attorneys has worked for years representing those who have been injured in motorcycle accidents. We serve the communities surrounding the Rancho Cucamonga area and provide victims with the effective and compassionate legal care they deserve. Our attorneys have over 100 years of collective experience and know how to manage your personal injury claim.
We understand how difficult the aftermath of a motorcycle accident is. An injury is difficult and traumatic, and it can be especially frustrating when the accident was caused by another party's carelessness. By proving the other party is at fault, you can obtain coverage for medical care, property damages, and other losses. Our attorneys can investigate your accident to determine fault and work to help you hold the at-fault party accountable.
Whether you are filing a car insurance claim, a personal injury claim, or both, our attorneys have the understanding and experience to help you gain the financial stability you need.
Common Causes of Rancho Cucamonga Motorcycle Accident Cases
Motorcycle accidents have many overlapping causes that other motor vehicle accidents do, such as dangerous road conditions, reckless drivers, and vehicle malfunctions. However, motorcyclists also face additional dangers. Motorcycles are smaller than other vehicles on the road and may be missed by inattentive drivers or in conditions where there is poor visibility.
Motorcycles also don't have the same safety features as passenger vehicles. Most passenger cars have a frame designed to absorb the impact of an accident so that passengers do not. A motorcycle does not. Additionally, motorcycles do not have seatbelts or airbags. When a motorcycle is in an accident, the rider is frequently thrown from the vehicle to the ground. Motorcyclists face both the initial accident impact and the impact of being thrown. This increases the severity of injuries.
Commonly cited causes of motorcycle accidents in the state include:
Distracted Driving: Distracted driving is one of the most common causes of accidents in the country. A driver may be distracted by a phone, talking to passengers, or simply being inattentive. When a driver's eyes or focus is off the road, they are more likely to miss a motorcycle or sudden changes on the road, which may cause a collision. Both motorcyclists and drivers may be found at fault for driving distracted.
Poor Visibility: Motorcycles may be harder to see when driving conditions are not ideal. This includes night driving, driving in fog or storms, driving in severe traffic, or even driving against the sun.
Driving Under the Influence: It is illegal for anyone in the state to drive under the influence (DUI) of drugs or alcohol. Drivers or motorcyclists who operate their vehicles while impaired face criminal charges. If an individual was under the influence and this resulted in an accident with injuries, the potential criminal penalties would increase. A DUI may result in license suspension, fines, and jail time. These penalties are in addition to civil claims filed by any injured parties.
Speeding: When drivers exceed speed limits, they limit the amount of time they have to react to a potential collision. Additionally, speeding increases the speed of the collision and, therefore, the damage caused by the accident. Speeding is one of the highest causes of fatal injuries in motorcyclists. Speeding may also be charged as reckless driving, resulting in potential criminal penalties.
Moving Violations: Traffic signs and signals exist to ensure a safe flow of traffic. When drivers make illegal turns, drive through stop signs and stop lights, and fail to yield, accidents are more likely.
Vehicle Defects: Vehicle crashes can be caused by malfunctions in a car or motorcycle's important components. If a vehicle owner fails to address a known mechanical issue, they may be held liable for the damages in the crash. These failures or defects may also be caused by the negligence of a manufacturer, seller, or distributor of the vehicle or component.
There are many other potential causes of motorcycle accidents. In order to file an insurance claim with the at-fault party's insurance provider and to file a personal injury claim against the party, fault has to be determined. This requires an investigation of the accident and all involved parties.
How Does a Rancho Cucamonga Motorcycle Accident Attorney Help Me?
While you are legally allowed to file an insurance or personal injury claim without legal representation, it will be much more difficult. When you are in an accident, you file for compensation with the at-fault party's insurance provider.
A motorcycle accident is more likely to result in more severe injuries, which results in higher medical costs, more lost income, and other costs. Although drivers in the state are required to have a certain minimum of insurance, this minimum coverage is unlikely to cover the severity of your damages in a motorcycle accident. Additionally, you may be in an accident with an uninsured driver.
In both these situations, a personal injury claim is necessary to recover all or the rest of your damages in medical bills, pain and suffering, lost income, and damage to your vehicle. An attorney can calculate these damages, including future costs you may not realize you can be compensated for.
Your personal injury attorney also has the resources to thoroughly investigate the accident to determine the at-fault party or parties. This includes reviewing CCTV footage of the accident, the police report, cell phone records, and other information.
Even though the fault in the accident may seem straightforward to you, obtaining compensation without an attorney can still present challenges. An insurance provider's goal is to limit the company's liability, and a representative will likely try to find any way to avoid paying you your deserved compensation.
When you work with an attorney, they can negotiate with the representative on your behalf. Attorneys have negotiated these claims before and will enter into discussions with a clear understanding of what your claim is worth.
What Compensation Is Available in A Motorcycle Accident Personal Injury Claim?
A personal injury claim does not allow an injured party to cover the same damages covered by an insurance claim. Instead, a personal injury claim allows the injured party to obtain compensation that was not covered by their insurance claim. Your attorney can review your accident and situation to determine if it is worth filing a personal injury claim and how to effectively maximize your compensation in a way that fairly represents your losses.
The damages that are frequently found in personal injury motorcycle accident claims include:
Medical Bills: Any medical costs not covered by a car insurance claim will be covered by a successful personal injury claim. This includes your outstanding medical bills and anticipated medical costs for future surgeries, rehabilitative care, and doctor's visits. Injuries in motorcycle accidents are often devastating injuries with life-long consequences. Coverage for medical costs also includes expected medical complications and medical devices or mobility aids.
Lost Income: After a motorcycle accident, you may be unable to work for many weeks or months until you recover. A personal injury claim can recover the full income you should have earned during that time if you had been working.
Lost Earning Capacity: If your injuries have left you permanently disabled, you can be compensated for lost earning potential. You may be able to return to your job in a limited capacity, be forced to begin a new trade or be unable to work at all. The income you would have earned in the future is compensable.
Property Damages: A personal injury claim can recover property damage not covered by a car insurance claim. This includes repair or replacement costs for a motorcycle and the cost of other personal items that were damaged or destroyed.
Pain and Suffering: Physical pain and emotional distress are forms of noneconomic damages that are available in personal injury claims. Your attorney can determine a fair value of noneconomic damages that accurately reflects your injuries and long-term complications.
These damages are all compensable damages. In rare cases, the court will assign punitive damages. These damages are not awarded to make up for an injured party's loss. Instead, they are assigned to punish the at-fault party for willfully negligent or illegal behavior.
When you work with an attorney, they can calculate fair compensation and advocate for your rights to that compensation.
Motorcycle Crash FAQs
Q: How Much Compensation Do You Get for a Motorcycle Accident?
A: You are able to claim compensation for all damages you suffered directly from the accident when you file a personal injury claim, including medical expenses, property damage, and lost wages during your recovery. In addition to these calculable economic damages, you could recover pain and suffering damages.
The most effective way to ensure you receive the greatest amount of compensation in your claim is to work with an experienced attorney. A personal injury attorney will know how to maximize your compensation while fairly calculating the damages you suffered. Without an attorney, you are likely to underestimate the damages you deserve and accept a settlement that does not cover those costs.
Q: How Much Do Accident Attorneys Charge in California?
A: Personal injury accident claims are typically charged on a contingency fee basis. Rather than charging an up-front flat fee or an hourly rate, a contingency fee means that the attorney will receive a percentage of the final award. If your attorney does not win your case, you do not owe them attorney's fees.
Attorneys in California tend to receive 33 to 40% of the final settlement amount. The exact percentage relies on several factors, including the attorney's experience, how complicated your accident case is, and whether the case is settled in negotiation or litigation.
Q: What Should You Do If There Is a Motorcycle Accident?
A: Your first step after a motorcycle accident is to receive emergency medical care. If you are physically able to, you should report the accident and begin documenting the scene of the accident and your injuries. When you make an accident report, be honest with the police officers, but don't say anything that would admit liability for the accident. As soon as you can, contact a motorcycle accident attorney.
Q: Can I Get Compensation for a Motorcycle Accident If I Am Partially At Fault?
A: In California, you can still obtain compensation if you are partially at fault for the accident. The state law is pure comparative negligence, which means that an injured party can seek damages even if they are 99% liable for the accident. Once a final settlement is determined, that settlement is reduced by the percentage of fault that the individual had in the accident. During a personal injury claim, a judge will divide the percentage of fault between the parties. If the judge determines you to be 15% liable, your compensation will be reduced by 15%.
Contact Belgum, Fry & Van Allen Law Offices
At Belgum, Fry & Van Allen, we have represented clients in vehicle accident claims for many years, including motorcycle accidents. We understand the legal requirements of your claims and can answer any questions you have. We know that a motorcycle accident can leave you with severe financial insecurity and physical pain. We want to help you discover your options for compensation. Contact us today to learn how we can help.