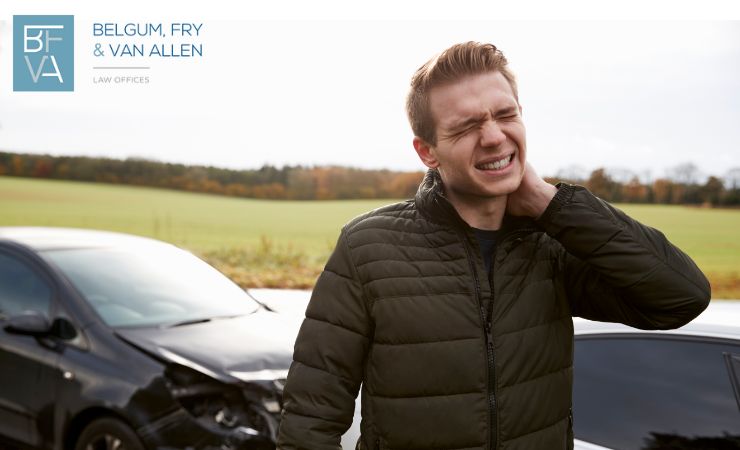 Rancho Cucamonga Car Accident Attorney
More than a thousand car accidents happen daily in the state, making them one of the most common forms of personal injury. A car accident can be a very traumatic experience, even if the damage is minimal. If you are involved in an accident, it is vital to consult with a Rancho Cucamonga car accident lawyer right away.
Unfortunately, some car accidents can also result in catastrophic damages, injuries, and even death. Drivers on the road typically do what they can to avoid accidents, but not everything is under a driver's control. It's never ideal to be in a car accident, but it can be immensely more frustrating when the damages are caused by another driver's carelessness or misconduct.
If you or a loved one has suffered injuries in Rancho Cucamonga, CA because another driver or party was reckless or negligent, you may be able to recover the financial cost of those damages. California law requires a minimal amount of auto insurance for all drivers on the road, and this is the first method an injured driver can use to recover damages. If this is not enough to compensate for your damages, you may be able to file a personal injury claim.
It is frequently much easier to file these claims and obtain fair compensation with an experienced Rancho Cucamonga car accident lawyer.
Defending Auto Accident Victims in Rancho Cucamonga
At Belgum, Fry & Van Allen, our team of qualified and dedicated attorneys work hard to provide the community in the Rancho Cucamonga area with the comprehensive legal care they need.
If you were injured in a car accident that was not your fault, you deserve compensation for your medical bills, car damages, rehabilitative care, lost wages, and other damages. Although we know that financial compensation will not heal injuries that you have suffered, it can provide you with essential financial stability during your recovery.
Our attorneys have extensive legal experience in personal injury claims like car accidents and have more than 100 years of combined experience in many areas of law. We help our clients file car insurance claims and personal injury claims and use our knowledge and resources to give each claim its greatest chance of succeeding. If you are feeling overwhelmed and uncertain of your next steps after a car accident, our firm can help you get the compensation you deserve.
Proving the At-Fault Party in a Rancho Cucamonga Car Accident
After a car accident, determining what party is at fault is essential to the success of a car insurance or personal injury claim. When a driver is found at fault, they can be held legally and financially liable for any damages suffered by the other person's damages. Common causes of car accidents and reasons for fault include:
Driving Under the Influence: Driving under the influence (DUI) is illegal in every state, but there are many people who get behind the wheel and operate their car while intoxicated. When an intoxicated driver causes an accident, they face more severe criminal charges. These charges may result in fines, time in jail, and a driver's license suspension. The driver may also face civil claims from those they harmed in the accident.
Distracted Driving: A driver is driving distracted if they are doing anything that takes their focus or eyes off of the road. Eating and driving, managing a GPS system, talking on a cell phone, or even being mentally distracted increases the chances of an accident. Drivers who are distracted can be held liable.
Speeding: Speeding is a form of reckless driving, which could result in criminal charges. Driving over the speed limit makes an accident more likely, and it increases the severity of damages and injuries if an accident does occur.
Moving Violations: Traffic signs and lights are there to ensure a safe and consistent flow of traffic. When drivers make illegal turns, ignore stop signs or stop lights, and fail to yield to the right-of-way, they increase the chances of an accident by disrupting the flow of traffic. This may also hold that driver liable.
Vehicle Malfunctions: Car accidents can be caused by a defective and malfunctioning car component. In this situation, it is possible that no driver is found at fault. Instead, an injured driver may be able to file a product liability claim against a manufacturer, distributor, or seller of the vehicle or vehicle component.
This is not an exhaustive list of grounds for fault in a car accident. If you are unsure who was at fault for your accident, an attorney may be able to review your situation and determine if you have the right to file for damages. One or multiple parties may be held liable for an accident.
Proving Negligence in an Auto Accident Claim
Most personal injury car accident claims are based on the theory of negligence. If another party is found negligent, they are liable for damages. To prove that another driver was negligent, you need to identify the party who was negligent and prove the following:
The other party owed you a duty of care
The other party failed or breached that duty of care in some way
Their breach directly caused the accident
The accident caused you damage or injury
You can only receive compensation for damages that are directly linked to the accident caused by the at-fault party.
Comparative Negligence Laws in Rancho Cucamonga
Under state comparative negligence law, you may be able to recover some damages even if you were partially at fault. Pure comparative negligence means that even if you were 99% liable for the accident, you can still recover compensation for damages. This law enables injured parties to obtain some compensation for damages.
However, the final compensation amount is reduced by your percentage of fault in the accident. In a personal injury case, the court will divide up the percentage of fault for an accident between two or more parties involved in the accident. If you are found to be 20% responsible for the accident, your final settlement amount is reduced by 20%.
An experienced attorney can advocate for your interests and work to reduce your percentage of fault and try to maximize the final amount of compensation you earn.
What Do I Do After an Auto Accident in Rancho Cucamonga?
Your initial steps after being in a car accident can be crucial to your ability to recover compensation later. After an accident, here are the steps you should take:
If you are severely hurt, you should make medical care your first priority. In this case, you may have to rely on someone else to call for emergency care and report the accident.
If you are not seriously injured, you should report the accident and wait for first responders to arrive. Check on others in the accident to determine if they are alright.
While you wait, try to take photos of the scene of the accident, any involved vehicles, and also the injuries you have sustained. This evidence can be useful in proving your claim in the future.
When police officers arrive, make an accident report. Be honest in your statement, but do not admit fault for the accident. Get a copy of the police report.
Get medical treatment after you are able to leave the accident site. This is necessary even if you have minor injuries or think you suffered no injuries. Injuries like concussions and other brain trauma can take days to show symptoms. Getting treatment will provide essential medical documentation for your claim.
Get in contact with an experienced personal injury car accident attorney. They can help you file an insurance claim and determine if you should file a personal injury claim.
It's essential to begin working with an attorney as soon as possible. Although every car insurance company and policy is different, most require claims to be filed as soon as reasonably possible. The sooner you contact a Rancho Cucamonga personal injury attorney, the sooner they can begin building a case for the type of claim you are filing.
Filing a Car Insurance Claim Following an Accident
Every individual licensed to drive in California must have a minimum amount of auto insurance coverage for their vehicles. Although there are multiple ways to meet this insurance minimum, such as a DMV-approved self-insurance, the most common is through an insurance policy. In the state, the minimum requirements for liability insurance are:
$15,000 for bodily injury liability or death to one person
$30,000 in total coverage for bodily injury liability or death of multiple parties
$5,000 in property damage liability
Liability coverage is for damages done to other parties when you are at fault for the accident. When the accident is not your fault, you can file a claim with the insurance policy of the driver who was at fault. After an accident, you should inform the driver's insurance company that you intend to file a claim and avoid talking about a settlement until you can speak with an attorney.
An attorney can negotiate your settlement on your behalf. Insurance adjusters are supposed to limit their company's liability, and this means finding out how they can limit your compensation. They may try to claim your injuries are not worth as much compensation or claim you were partially at fault for the accident. A car accident attorney has seen these tactics before and knows how to address them. An insurance representative is less likely to try these tactics with an attorney.
An attorney can negotiate and try to maximize the compensation you get from an insurance claim. However, if your damages exceed the at-fault driver's insurance coverage, it may be necessary to file a personal injury claim to obtain the remainder of the compensation you need.
Damages in a Personal Injury Claim for Your Rancho Cucamonga Car Accident
An at-fault party may be held liable for their negligence, recklessness, or intentional misconduct. A personal injury claim filed against them can obtain compensation for you for any damages that have not already been recovered. If the at-fault party was acting illegally or out of malice, they would face criminal charges as well as civil claims from you and other injured parties.
Depending on the damages you suffered, you may be able to seek compensation for:
Medical Expenses: A car insurance claim only covers some medical costs, especially if you suffered from severe or catastrophic injuries. A personal injury claim can cover all immediate and future medical bills, including any anticipated complications or rehabilitative care for the injury. An attorney can help you secure the necessary documentation to prove your damages and show the scope of your injuries.
Lost Income: Many injuries in car accidents may prevent you from earning income during your recovery. A personal injury claim enables you to recover the wages you would have usually earned had you been working.
Lost Future Income: Certain types of car accidents can cause catastrophic and disabling injuries. If your injury is a permanent disability that prevents you from ever returning to your work or forces you to have limited job duties, your earning capacity has been diminished by your injury. This lost income in the future should be compensated by a personal injury claim.
Property Damage: If the damage to your vehicle and property inside the vehicle exceeds the at-fault party's insurance coverage, you can recover the remainder in a personal injury claim.
In addition to the economic damages, a personal injury enables you to seek noneconomic damages. This includes damages like loss of quality of life, pain and suffering, emotional distress, and loss of enjoyment of life. These damages do not have a cap in this type of personal injury claim. Your attorney can determine how to effectively and fairly calculate these damages based on your situation to maximize your compensation.
Many individuals filing personal injury claims underestimate the real value of their claim. If you are not used to calculating damages, you may be unsure how to value noneconomic damages or future costs. An attorney has experience in these determinations.
Why Should I Hire a Rancho Cucamonga Car Accident Lawyer?
Even if you have an understanding of how to file these claims, it can be overwhelming to do so while you're injured. An attorney can investigate your accident, find proof of the at-fault party, and protect your rights during the negotiation of both claims. If an insurance company or at-fault party will not provide you with reasonable compensation, your attorney can represent you in litigation.
FAQs
Q: How Much Do Car Accident Lawyers Charge in California?
A: A majority of car accident attorneys charge based on a contingency fee. This means that instead of an hourly rate, you owe an attorney a percentage of the final settlement. If the attorney doesn't win you compensation for your injuries and damages, you don't owe them attorney's fees. This percentage is typically 33 to 40% of the final settlement in California.
The rate assigned to your claim will depend on the complexity of your claim, your attorney's experience, the firm's policy, and whether your case enters litigation or not.
Q: Do I Need a Lawyer for a Car Accident in California?
A: It's not legally required to hire an attorney for a car accident claim, but it will likely make each aspect of the claim less stressful and more likely to succeed. Even if you expect your claim to be simple to manage, an attorney can help. Your attorney can negotiate with car insurance adjusters, as well as determine if a personal injury claim is useful to file in addition to an insurance claim.
Your attorney can maximize the compensation you get from both these avenues, potentially earning you much more compensation than you would have earned on your own.
Q: If a Car Accident Wasn't My Fault, do I Need an Attorney in California?
A: Even if you were not at fault for the car accident, it is useful to have a car accident attorney protecting your rights. The goal of insurance companies is to limit their liability, and this means they will try to provide you with as little compensation as possible, even if you are not at fault. Some providers may even try to claim you were at fault.
When you have an attorney talking with the insurance provider on your behalf, your claim benefits. An attorney knows how to respond to these claims and negotiate for a more advantageous settlement.
Q: How Much Can Someone Sue for a Car Accident in California?
A: Under state law, the amount of a car accident claim is equal to all legally recognized damages the injured party sustained due to the at-fault party's negligence. This means that the value of your claim is equal to the value of your medical costs, property damage, lost wages, and noneconomic damages. It also depends on your percentage share of comparative negligence.
The higher the cost of damages suffered, the higher your compensation amount should be. The claim value also relies on how skilled your attorney is.
Contact Belgum, Fry & Van Allen Law Offices
At Belgum, Fry & Van Allen, we always work diligently to help our clients after a difficult car accident. We understand how much this situation has impacted your life and can work to answer your questions, guide you through the legal filing process, and attempt to recover the most compensation possible. We want to help you in your recovery. Contact our team today to see how we can help with your Rancho Cucamonga car accident.