Commonly Reported Causes of Motorcycle Accidents
Motorcycle accidents are susceptible to most of the risk factors facing all drivers in the Azusa area. However, these vehicles are much smaller and lighter than larger passenger cars and share none of the same safety features. While an enclosed car has airbags, seatbelts, and a crash-resistant frame designed to absorb the impact of a collision, a motorcycle offers virtually no physical protection to the rider. They not only face the full force of the primary impact from the other vehicle hitting them but also the secondary impact of hitting the ground. A few of the most common causes of motorcycle accidents that lead to complex legal proceedings in Azusa include:
Distracted driving, which accounts for most of the accidents in the United States each year. Your Azusa motorcycle accident attorney will know what evidence you will need to prove the at-fault driver was not paying full attention to the road in the moments leading up to your accident.
Driving under the influence of drugs or alcohol, which will lead to criminal prosecution of the at-fault driver in addition to their civil liability to the victim. The standard penalties for a DUI offense in California typically include driver's license suspension, fines, and jail time. However, the severity of the DUI charge and the resulting penalties will increase significantly if the DUI driver causes serious bodily injury or death to another person.
Speeding, which is the most commonly cited cause of fatal motorcycle accidents throughout the United States. Any time a driver speeds, they put themselves and others at risk. If traffic patterns suddenly change, they may have no time or distance to slow down or stop.
Poor visibility from inclement weather, driving at night, or in congested traffic. Motorcycles are smaller and harder to see than most other vehicles making them especially vulnerable in these situations.
The first step in recovering from your recent motorcycle accident will be determining exactly how the accident happened and who caused it. If you were severely injured and you do not remember how your accident happened, or if you were the victim of a hit-and-run accident and do not know how to identify the at-fault driver, an experienced Azusa motorcycle accident attorney is the ideal resource for you to consult.
The attorneys at Belgum, Fry & Van Allen know how to secure the evidence you need to firmly establish liability for a recent motorcycle accident in the Azusa area. We can examine the police report of the incident and review traffic camera footage and any other available digital evidence. The other driver's cell phone records could prove they were distracted at the time of the accident, or their vehicle's computer data may show they were speeding in the moments leading up to the crash.
Any motorcycle accident is likely to cause severe injuries, and the victim will face mounting economic pressure due to the cost of their medical treatment, lost income from inability to work, and long-term damages they may not be able to immediately calculate.
Compensation for a Motorcycle Accident
California law enables the plaintiff in a personal injury case to seek full repayment of all the economic losses the defendant caused. For most vehicle accident victims, their economic damages often include medical expenses, lost income, and vehicle repair costs. California law compels drivers to carry auto insurance, but a minimum coverage policy may only cover a portion of a motorcycle accident victim's total losses. When insurance alone cannot fully compensate you for the damages from your accident, you will need to file a personal injury case against the driver who hit you.
A successful personal injury claim can yield full compensation for all immediate and future economic losses resulting from the accident in question, and the victim also has the right to pursue pain and suffering compensation in proportion to the severity of their injuries. Your attorney may seek "per diem" compensation if you are expected to fully recover in the near future, and this will award a set amount each day until you reach maximum medical improvement. Alternatively, they could seek a large lump sum that reflects the severity of your condition.
While the total amount of compensation you might secure from your personal injury claim may be substantial, it is important for any vehicle accident claim plaintiff to understand California's pure comparative negligence law. Under this statute, a plaintiff loses some of their case award if they are found to be partially responsible for their accident. For example, if you bear 30% fault for your recent accident, you will lose 30% of your final compensation.
Having an experienced Azusa motorcycle accident attorney representing you in your recovery efforts makes each phase of recovery much easier to endure and more likely to generate positive results. When it comes to your auto insurance claim, your attorney can draft a demand letter to the insurance company on your behalf and ensure you receive an appropriate settlement offer. If you must proceed with a personal injury case, the right attorney is the best asset you can have if you want to maximize the final compensation you secure. The attorneys at Belgum, Fry & Van Allen have helped many past clients recover more fully than they initially expected from their motorcycle accidents, and we are ready to leverage this experience on your behalf.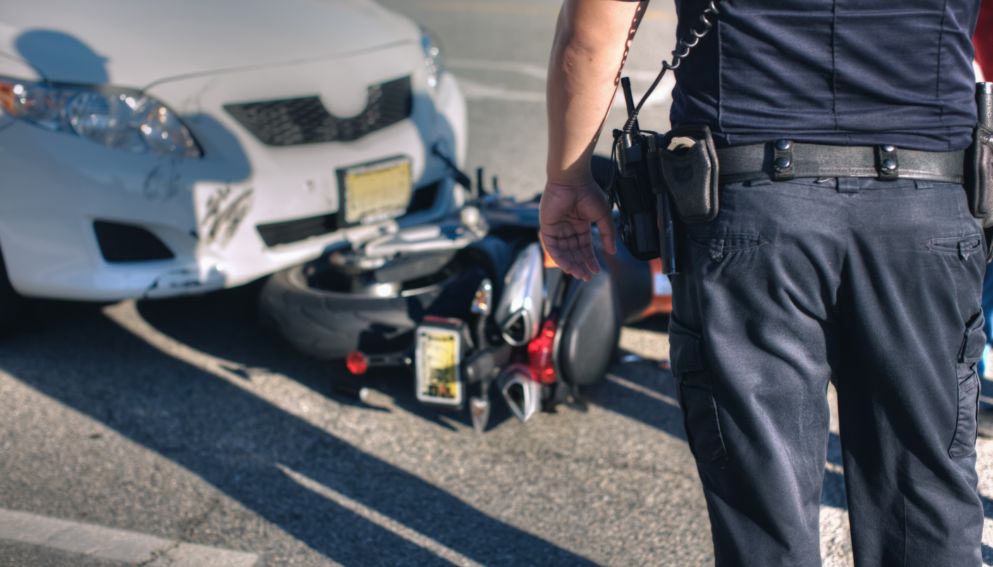 FAQs About Azusa, CA Motorcycle Accident Law
What Is the Most Common Motorcycle Accident Injury in Azusa?
Throughout California, the most commonly reported injuries from motorcycle accidents include traumatic brain injuries, spinal cord injuries, broken bones, and "road rash," a term used to describe friction burns suffered from sliding on the road surface at high speed. Traumatic brain injuries are the most commonly reported fatal injuries from motorcycles. California law requires all riders to wear appropriate helmets, but even the best helmet can only mitigate a head injury, not prevent one entirely.
Will an At-Fault Driver Go to Jail for Causing My Accident?
The driver responsible for causing a motorcycle accident will not face jail time or any criminal charges unless they caused the accident through some willful misconduct or if they hit the motorcyclist intentionally to cause harm. If your accident happened because of any criminal activity or intentional misconduct, criminal charges are likely for the defendant, and your attorney can advise you as to how this may influence your case proceedings.
How Do I Prove Fault for a Motorcycle Accident in Azusa?
Determining fault for any motor vehicle accident in California requires identifying the party you believe caused the crash and then proving their negligence or intentional misconduct directly resulting in the accident and the resulting damages. Fault is less clear in some motorcycle accident cases than it is in others, and it is possible the victim does not recall the details of their accident due to the severity of the injuries they suffered. Your Azusa motorcycle accident attorney can advise you as to how to prove liability for your accident.
How Soon Should I Speak to an Attorney After a Motorcycle Accident in California?
You should address your medical needs before anything else after a motorcycle crash, but once you stabilize, your first priority should be to speak with an experienced Azusa motorcycle accident attorney as soon as possible. Speaking with a lawyer prior to any discussion about an insurance claim or other recovery efforts preserves your chances of maximizing your compensation to the fullest extent possible under California law.
How Much Does It Cost to Hire an Azusa Motorcycle Accident Attorney?
The attorneys at Belgum, Fry & Van Allen accept personal injury cases on a contingency fee basis. This means we only collect a legal fee from a client after we win their case, and their fee is a percentage of the final case award. This ensures their legal costs do not exceed the compensation they secure and that they can approach their difficult personal injury case with confidence and peace of mind.
The attorneys at Belgum, Fry & Van Allen have assisted many past clients with difficult personal injury cases, including those pertaining to truck crashes. If you are ready to learn more about your options for legal recourse after another driver has caused a motorcycle accident, contact us today and schedule a free consultation with an Azusa motorcycle accident attorney who can help you navigate your recovery efforts to a positive conclusion.