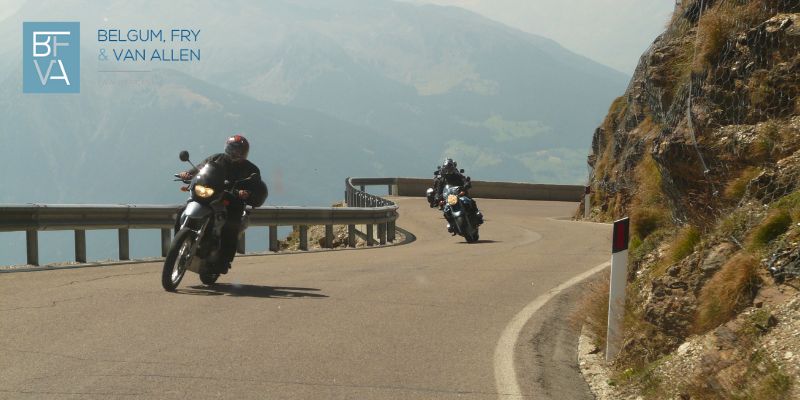 Pomona Motorcycle Accident Attorney
Motorcycles are popular in the Pomona area and throughout California, and while most riders enjoy their time on their motorcycles without having any problems, it is crucial for every rider to know the risks these vehicles present. Motorcycles are inherently more dangerous than enclosed passenger vehicles because they do not provide any physical protection in a collision. As a result, motorcycle accidents can happen for many of the same reasons that all other vehicle crashes occur, but they tend to result in much worse damage.
Experienced Legal Representation for Motorcycle Crash Victims in Pomona, CA
When a motorcycle accident happens in Pomona, the victim needs to know their rights and how they can receive compensation for the losses they suffered. Recovery from most vehicle accidents starts with the insurance claim filing process, as every driver in the state is legally required to have personal auto insurance. However, when insurance cannot cover their total damages, or when a driver at fault lacks insurance, the injured driver must file a claim to recover outstanding damages.
The attorneys at Belgum, Fry & Van Allen have extensive professional experience handling personal injury claims in Pomona, including those arising from motorcycle accidents and other motor vehicle collisions. If another driver's negligence or intentional misbehavior behind the wheel caused injuries and economic losses, you could seek accountability and compensation for the damages you suffered. Our team is ready to provide the legal counsel you need to navigate your recovery process successfully.
Recovering From a Motorcycle Accident With an Auto Insurance Claim
Every driver is legally required to have auto insurance that includes at least $15,000 in bodily injury liability coverage for a single person, at least $30,000 in total accident liability coverage, and at least $5,000 in property damage liability coverage. Drivers are also strongly encouraged, but not legally required, to purchase additional coverage for uninsured drivers. The state has one of the highest rates of uninsured drivers in the country, and if the driver who caused your accident does not have insurance, you can file a claim against your own policy if you have this coverage option.
Your Pomona motorcycle accident attorney can assist you with filing your claim against the driver at fault's insurance. You have a limited time in which to notify their insurance carrier of your intent to file a claim, and missing this window could mean losing your chance to secure an insurance settlement. If any disputes arise between you and the insurance company, your attorney can resolve these problems on your behalf and assist you in securing a fair settlement offer. Once you have secured as much compensation as you can through auto insurance, you can proceed with filing your personal injury claim against the driver at fault.
Auto insurance comes into play whenever one driver is at fault for an accident, whether through negligence or intentional misconduct. Commonly cited forms of negligence that often result in vehicle accidents in the Pomona area include distracted driving, moving violations, and speeding. Driving under the influence (DUI) of alcohol or drugs and reckless driving are common examples of intentional misconduct that can result in accidents. No matter how your motorcycle accident occurred, proving fault is essential to all the recovery efforts you must attempt.
Personal Injury Damages for a Motorcycle Accident in Pomona
Once you have proven fault for your accident and obtained an insurance claim settlement, or if the driver at fault does not have insurance, you can file a claim against them to recover any remaining losses. Under California law, the victim of a personal injury can seek recompense for economic and non-economic damages caused by a defendant's intentional misconduct or plain negligence.
When it comes to economic losses, these are the direct financial effects of a personal injury. You can seek full repayment of any medical expenses you incur from your accident, and motorcycle crashes have a high chance of causing severe injuries. The defendant must pay for immediate and future medical expenses you incur from the accident they caused. This same rule applies to income you lose if you can't work after your accident while you recover; the defendant must repay your missing wages. If you can't go back to work at all in the future due to the severity of your damages, you can hold them accountable for the lost earning potential as well.
An injured motorcyclist is also able to recover the cost of repairing or replacing their vehicle, and the driver at fault's insurance may cover some of these property losses. Once the plaintiff has proven the full scope of their economic damages, their Pomona motorcycle accident attorney can help them determine suitable pain and suffering compensation to reflect the severity of their experience.
There are no limits on pain and suffering damages in motorcycle accident claims. Your attorney might seek a large lump sum on your behalf if your accident caused any catastrophic or permanently damaging injuries that diminish your quality of life, ability to work, and ability to live independently. Alternatively, if you suffered injuries that are expected to fully heal in the near future, they may opt for a per diem pain and suffering settlement. This awards compensation for each day you spend recovering from your injuries.
Ultimately, your motorcycle accident claim may be worth much more than you initially expected, and you have the highest chance of maximizing your compensation when you have legal counsel you can trust to handle your case. The team at Belgum, Fry & Van Allen approaches each personal injury case with the goal of helping our client maximize their recovery as much as state law allows, and we will do everything we can to help them recover as fully as possible from your motorcycle accident.
FAQs About Pomona, CA Motorcycle Accident Law
What Happens if I Share Fault for a Motorcycle Accident in Pomona?
It's possible for the plaintiff in a personal injury case to bear partial liability for their damages. If this applies to your case, it's vital to know how the state's pure comparative negligence statute works. Under this rule, a plaintiff loses a portion of their final case award equal to their percentage of fault for causing the accident. The judge handling the case assigns each liable party a fault portion to reflect their liability for the accident, and the plaintiff's fault percentage will be the percentage subtracted from their total case award.
What Happens if a Motorcycle Accident Is Fatal?
If you lost a family member in a fatal motorcycle accident caused by another party, state law dictates that the surviving beneficiaries of the deceased or the personal representative of their estate may file a wrongful death claim. This takes the place of the personal injury claim the victim could have filed if they survived. Wrongful death claims can help the surviving family recover compensation after a fatal accident that helps them adjust to their new circumstances and holds the driver at fault accountable for their actions.
How Can a Pomona Motorcycle Accident Attorney Help My Case?
Your legal representation can help gather the evidence needed to prove fault for your accident, and they can also handle your legal proceedings while you focus on recovering from your injuries. They may also uncover channels of compensation you didn't know were available, increasing the total amount of your final recovery. You are more likely to win your case and secure the maximum compensation possible under state law when you have an attorney you can trust to handle your case.
How Long Does It Take to Settle a Motorcycle Accident Claim in Pomona?
If the defendant who caused your accident accepts responsibility for their actions and agrees to settlement negotiations, a good attorney can potentially help resolve your case within a few weeks. However, if the defendant denies liability or disputes the damages you are seeking, it will take much longer to resolve the claim, potentially several months of litigation if you take the case to court.
What Are the Fees for Pomona Motorcycle Accident Attorneys?
The attorneys at Belgum, Fry & Van Allen accept personal injury clients on a contingency basis. This means you are not obligated to pay any upfront or ongoing legal fees for our firm's representation, and you will only pay a legal fee to our firm once we win your case. The contingency fee is a percentage of the total case award we secure on your behalf. If we cannot obtain compensation, you owe nothing. Our firm strives to ensure legal counsel is accessible when you need it most without the risk of your legal expenses overshadowing your recovery.
The team at Belgum, Fry & Van Allen has successfully represented many past clients in a wide range of personal injury claims, including those arising from motorcycle accidents. These accidents tend to be significantly more damaging than most other vehicle accidents in Pomona, and the right attorney is the ideal asset to have on your side as you seek compensation. If you are ready to learn how an experienced Pomona motorcycle accident attorney can help with your recovery, contact us today and set up a free consult with our team.