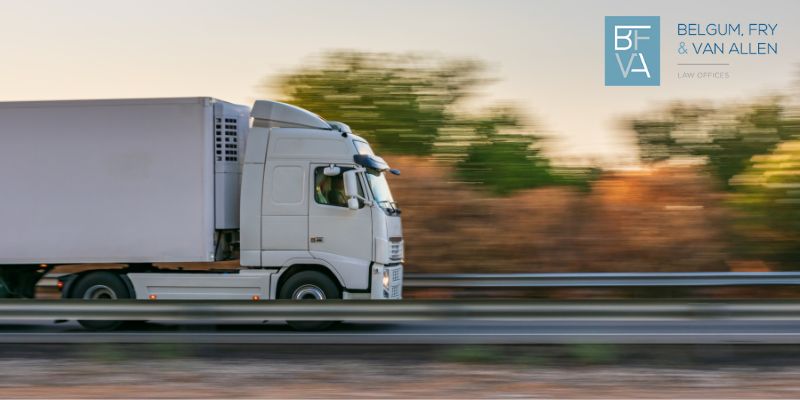 Pomona Truck Accident Attorney
Commercial trucks are an important part of California's economy and the distribution networks of the entire country. Drivers throughout the Pomona area regularly encounter large trucks, and while most arrive at their destinations safely, there is always a chance for a serious truck accident to happen in various ways. When such accidents occur, they tend to be far more damaging than accidents involving smaller passenger cars.
Helping Truck Accident Victims Recover Their Damages in Pomona
If you suffered injuries in a truck crash someone else caused, it is essential to know how you can hold the driver at fault responsible for their actions. Securing compensation for the damages you sustained requires proving fault, and truck accidents tend to raise complex questions regarding liability. When you have a seasoned Pomona truck accident attorney handling your case, you are more likely to maximize the compensation you ultimately secure from your recovery.
The attorneys at Belgum, Fry & Van Allen have a strong reputation for Pomona personal injury representation, in large part due to our client-centered philosophy regarding civil law. If another party harmed you in any way, we have the skills, resources, and experience you need on your side to hold them accountable. The sooner you connect with our firm, the sooner we can start guiding you toward the recovery you deserve.
How to Prove Fault for Your Truck Accident in Pomona
The state upholds the fault rule for vehicle accidents, meaning the driver at fault for an accident is liable for any and all resulting damages to others. Before you can receive compensation for the damages you suffered, it is essential to find a Pomona truck accident attorney who can help establish liability for your accident.
One issue that commonly arises in truck accident claims, complicating victims' recoveries, is vicarious liability, which is one party's liability for the actions of another party, even if the first party was not actively involved in the injury. Vicarious liability is most commonly applied to employers who bear fault for the actions of their employees. For example, if a trucking company never conducted an appropriate background check on a driver before hiring them and assigning them work and the driver causes a crash, the employer could face vicarious liability for their failure to properly vet the driver. The same can apply to failure to enforce industry regulations.
Your Pomona truck accident attorney can help gather any evidence required to prove your accident resulted from negligence, or a failure to exercise reasonable care. If your accident was the result of any illegal misconduct, the defendant who injured you might face criminal prosecution for their actions. Your legal counsel can discuss how the outcome of their criminal case might impact your recovery.
Claiming Compensation for Your Truck Accident in Pomona
Every driver must have auto insurance that meets the state's minimum coverage requirements for bodily injury and property damage liability coverage. Filing an auto insurance claim is typically your first option for recovering your damages from a motor vehicle accident, and most trucking companies in the state have more expansive insurance coverage than the average individual driver. However, this does not mean that insurance alone can cover your losses. In most cases, the damages from a truck accident will easily eclipse the average losses reported from a standard passenger vehicle accident.
Your Pomona truck accident attorney can streamline the insurance claim process and resolve any problems between you and the insurance carrier. If insurance alone cannot compensate you for your losses, then you will need to file a claim against the driver at fault or against multiple defendants if more than one party shares fault for your losses. A successful personal injury claim could potentially help recover compensation for:
The cost of medical treatment you require after an accident. Any truck accident has a high chance of causing severe physical injuries. Therefore, the defendant who caused your accident is liable for the medical expenses you incurred immediately following the crash and those you are likely to face in the future for ongoing rehabilitative treatment.
Lost wages resulting from the inability to work. If your injuries prevent you from earning income, the defendant who caused those injuries is liable for the income you lose. This rule applies to lost future earnings as well if you have been rendered unable to return to your job due to a severe disability from your injuries.
Property losses. An insurance claim may help recover some of your vehicle repair costs from a truck accident, but any remaining property losses can be recovered through your personal injury claim.
Pain and suffering. State laws let plaintiffs seek recompense for the physical pain and psychological distress experienced from a defendant's negligence or intentional misconduct. There are no limits on this aspect of recovery in truck accident claims, and your legal team will assist you in determining a suitable figure that appropriately reflects the severity of your experience.
Other damages may also come into play in your truck accident case depending on the nature of the defendant's behavior that caused the accident, the severity of your injuries, and whether you hold any partial liability for causing the accident. For example, if you bear partial fault, the percentage of fault you hold for the accident will be deducted from your case award under the state's pure comparative negligence statute.
The attorneys at Belgum, Fry & Van Allen are ready to provide the comprehensive legal counsel you need to navigate your truck accident claim with confidence. We have years of professional experience handling truck accident cases and many other types of personal injury claims, and we can provide the meticulous legal representation you need to recover as fully as state law allows.
FAQs About Pomona, CA Truck Accident Law
How Much Can I Receive in a Truck Crash Settlement?
The total value of any vehicle accident claim depends upon the severity of the victim's damages. Under California law, the victim of a personal injury can seek repayment of all the financial losses they suffered and recompense for their pain and suffering. Therefore, if you want an accurate estimate of your claim's total potential value, it's vital to speak with a Pomona truck accident attorney about the specifics of your claim.
Do I Need to Hire a Lawyer for a Truck Accident Claim?
There may not be a law that requires you to hire legal representation for a truck accident claim, but doing so will significantly increase your chances of maximizing the compensation you obtain from the driver at fault. Additionally, you will not need to worry about meeting court filing deadlines and other procedural demands of your case while managing your medical recovery. Hiring the right Pomona truck accident attorney means peace of mind and a greater chance of maximizing the compensation you obtain from the driver at fault.
How Do I Prove Liability for My Recent Truck Accident in Pomona?
Before you can claim any compensation, you must prove how the accident happened. Your Pomona truck accident attorney can help recover physical evidence from the scene of the crash, secure statements from any witnesses who saw the accident happen, and consult with various expert witnesses who can provide professional insights into the complex technical parts of your case.
How Long Do You Have to File a Claim for Truck Accidents?
California law upholds a two-year time limit for filing a personal injury claim. This means the plaintiff must submit their complaint to the court within the statute of limitations, which is two years, or they lose their right to claim compensation from the defendant who caused their injury. This might sound like plenty of time to file your case, but it is always advisable to start the process as quickly as possible. This ensures the highest chance of success with your recovery effort.
How Much Are Attorneys' Fees for a Pomona Truck Accident Attorney?
When you choose Belgum, Fry & Van Allen to represent your truck accident case in Pomona, there is no need to worry about the potential cost of your legal fees. Our team only takes a fee from our clients once we win their cases, and the fee they pay is a portion of their total case award. As a result, there are no upfront or ongoing legal fees, so there is no financial risk to you by choosing our firm to act as your legal representation.
The attorneys at Belgum, Fry & Van Allen have many years of professional experience guiding clients in Pomona and surrounding communities through some challenging vehicle accident claims. Truck accidents not only tend to cause more destruction than standard motor vehicle accidents, but they also generate more complex legal entanglements for those involved. If you are ready to learn how an experienced Pomona truck accident attorney can help navigate the aftermath of a commercial truck accident, contact us today and schedule your free consultation with an attorney who you can trust with your case.