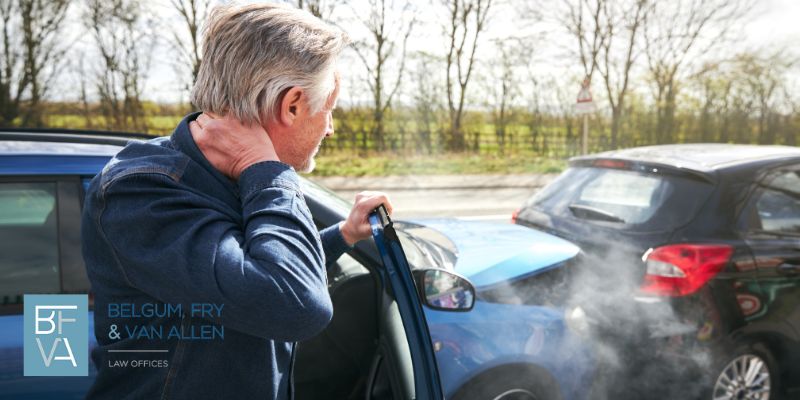 Pomona Car Accident Attorney
Car accidents are a top cause of accidental injuries and deaths in Pomona each year. When a car accident happens, you must know how to prove fault for the incident if you want to recover compensation for the damages you suffered. California is a fault state when it comes to resolving car accidents, so the driver responsible for causing an accident absorbs liability for all resulting damages.
Helping Pomona Car Accident Victims Recover
If you are struggling with injuries sustained in an accident that someone else caused, a Pomona car accident attorney can provide the legal support you need to ensure they are held appropriately responsible for the damages you suffered. The right attorney will be an invaluable asset for all the recovery efforts you will need to attempt to reach the optimal possible outcome to the difficult proceedings ahead of you.
The attorneys at Belgum, Fry & Van Allen have years of professional experience in personal injury law, and our team has successfully represented many car accident victims in their recovery efforts. If you know another driver caused your recent accident, we can help you prove their liability and guide you through the various legal proceedings ahead of you to help you recover as fully as possible.
Common Causes of Car Accidents in Pomona
It's possible for car accidents to happen in many ways, but when such an incident occurs due to the negligence or misconduct of a specific party, the injured driver has the right to pursue accountability and compensation from the at-fault driver. A few of the most commonly cited causes of car accidents in the Pomona area that generate contested insurance claims and personal injury actions include:
Driving under the influence (DUI). This is illegal and punishable by driver's license suspension, fines, jail time, and other penalties at the discretion of the sentencing judge. Additionally, penalties for DUI conviction automatically increase when a defendant has caused injury or death with their actions.
Distracted driving, which is the most reported cause of motor vehicle crashes in the United States each year. Whenever a driver is distracted behind the wheel, they put themselves and others at severe risk of an accident. Your Pomona car accident attorney will be invaluable for gathering any evidence you may need to firmly prove liability for a distracted driving accident.
Speeding. If a driver exceeds the speed limit, they reduce the time they will have to slow down or stop to avoid a crash. Speeding not only increases the chances of an accident happening but also the severity of any resulting damages.
Traffic violations, such as failure to yield the right of way, performing an illegal turn, or running a stop sign. Traffic signals and signs exist to allow drivers to anticipate the actions of other drivers. When drivers disregard these signs and interrupt the flow of traffic, they can easily cause damaging accidents.
Car accidents may happen in other ways, but no matter how your recent car accident happened, you have the right to pursue accountability if another driver directly caused the incident. An experienced Pomona car accident attorney can help you gather the evidence you will need to firmly establish the at-fault driver's liability for your claimed damages.
Filing Your Auto Post-Accident Car Insurance Claim
Every driver must have car insurance that meets the state's minimum coverage requirements. As a fault state, California requires liability coverage in the event the policyholder causes an accident. If another driver hits you, you are likely to start by filing a claim against their auto insurance policy. You have a limited time in which to do this, so it's ideal to notify the at-fault driver's insurance carrier of your intent to file a claim immediately but refrain from discussing a settlement until you can consult your attorney.
Your Pomona car accident attorney will be helpful with the insurance claim filing process. They can draft a demand letter for you and ensure the other driver's insurance carrier processes your claim in good faith. If you encounter any disputes regarding your claim, your attorney will advise you as to the optimal methods of addressing and resolving them. If there is sufficient evidence to prove fault and the right attorney handling your claim, it should only take a few weeks to receive your settlement check from the at-fault driver's insurance carrier.
Personal Injury Damages in Pomona
After securing as much compensation as possible from the at-fault driver's insurance policy, you can proceed with filing a personal injury claim against them if your outstanding losses won't be covered by their insurance. Under state law, the defendant responsible for causing any personal injury is liable for all the economic losses they inflicted on the defendant as well as the pain and suffering they caused them to endure.
If there are grounds for a personal injury claim after your recent car accident, an experienced Pomona car accident attorney can help you recover compensation for vehicle repair costs not covered by insurance, immediate and future medical expenses for treatment of your injuries, and lost income for the time you are left unable to work after your accident. When it comes to compensation for pain and suffering, there will be no limit to this aspect of your recovery in a car accident claim. Your Pomona car accident attorney will help you determine a reasonable figure that reflects the severity of your experience and the resulting condition after recovery.
The attorneys at Belgum, Fry & Van Allen have the professional resources and experience necessary to help you reach a positive outcome of the recovery efforts you must attempt in response to a car accident someone else caused. We have dealt with all the major auto insurance carriers in California and know the tactics they often use to try and avoid paying out on claims. We also have a strong record of successful personal injury cases behind us, and we know how to maximize your compensation when another party has injured you.
FAQs About Pomona, CA Car Accident Injury Law
Can I File a Personal Injury Case for a Car Accident in Pomona?
Your first option for recovering your damages from a car accident is filing an auto insurance claim against the driver who was at fault. However, if they do not have enough insurance coverage to fully compensate you for your losses, then you can proceed with a personal injury claim to recover the rest of your damages. It's advisable to have legal counsel for both recovery options to maximize the compensation you obtain from the at-fault driver.
How Much Is My Car Accident Claim Worth in Pomona?
California law allows you to seek full accountability and compensation for all economic losses you suffered from your car accident. These are likely to include vehicle repair costs, medical expenses for treatment of any injuries you suffered, and compensation for the income you lose if you cannot work due to your accident. Your Pomona car accident attorney can carefully go over the details of the accident and help you maximize your total compensation.
Can I Claim Compensation for Pain and Suffering From a Car Accident?
If a defendant caused serious personal injuries with their actions, you can hold them accountable not only for the economic losses you suffered from the incident but also for the pain and suffering you endured. There will be no limit to the amount you can seek in compensation for pain and suffering in a motor vehicle accident claim, and your attorney will provide helpful guidance when it comes to determining a fair amount to seek with your car accident claim.
How Much Will It Cost Me to Hire a Pomona Car Accident Attorney?
Belgum, Fry & Van Allen accepts clients with personal injury claims and charges only a contingency fee. We charge no legal fees up front for our firm's representation. Instead, we take a portion of the compensation we secure for you at the end of your case. We only take this fee if we win your case, so if we cannot win the claim for your damages, you owe nothing, so there is no risk when you pick our firm for your claim.
How Soon Should I Contact a Pomona Car Accident Attorney After a Crash?
Address your immediate medical needs and then reach out to trustworthy legal counsel as soon as possible after your accident. You have a very limited time in which to file your auto insurance claim, and it is advisable to have an attorney manage your insurance claim for you. You must also file a subsequent personal injury claim within the two-year statute of limitations, and filing your claim as soon as possible significantly improves your chances of reaching a positive outcome.
The attorneys at Belgum, Fry & Van Allen have many years of experience handling a range of car accident claims on behalf of clients in Pomona and surrounding communities. Our team knows the various legal challenges you are likely to encounter as you seek accountability for the damages you suffered, and we are ready to provide the compassionate and meticulous legal counsel you need to approach your recovery with confidence. If you are ready to learn how a Pomona car accident attorney can help you, contact us today and schedule a free consultation with our team.