Pomona Pedestrian Accident Attorney
Thousands of pedestrians walk through the Pomona area each year and reach their destinations safely, but pedestrian accidents do occur in many ways for many reasons. Whenever a motor vehicle hits a pedestrian, the victim is likely to sustain severe or even life-threatening injuries. If you or a loved one recently experienced a pedestrian accident, you need an attorney to help navigate the difficult legal proceedings your recovery may entail.
Experienced Legal Counsel for Pedestrian Accident Claims in Pomona, CA
The team at Belgum, Fry & Van Allen has years of experience handling all types of personal injury claims in Pomona, including those filed in response to pedestrian accidents. A victim of this type of accident is likely to suffer severe injuries that entail long and painful recovery time, impose long-term or permanent medical complications, and generate extensive financial losses for them and their family. If you find yourself in this situation, our firm can provide the comprehensive legal representation you need to approach your recovery efforts with confidence.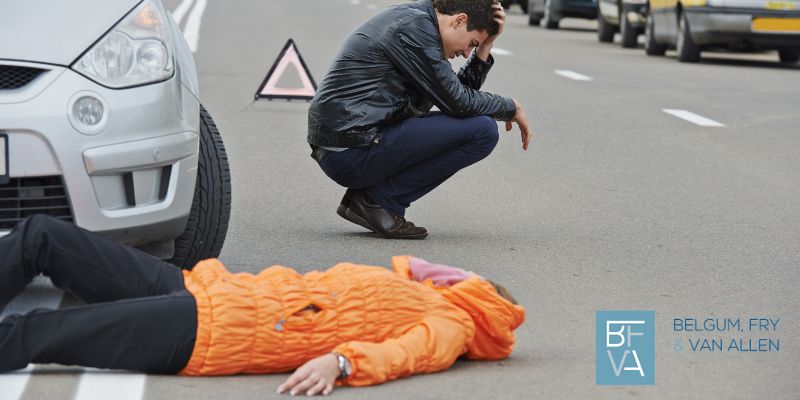 How to Prove Fault for a Pedestrian Accident
Pedestrians have the right of way, meaning drivers are always required to yield to pedestrians. You might assume this would mean that proving fault for a pedestrian accident would be simple and straightforward, but this is unfortunately not often the case. Many variables can complicate a pedestrian accident claim. It may be difficult for the victim to determine fault for the accident, especially if they do not recall the details of the incident due to the severity of their injuries and/or if the at-fault driver fled the scene.
Your Pomona pedestrian accident attorney can secure traffic camera video footage and other evidence to help identify the at-fault driver and hold them accountable for your damages. Once you have proven fault, the next step of your case is proving the full extent of the harm you suffered and securing compensation from the defendant.
Claimable Damages in Pedestrian Accident Cases
The driver who caused your pedestrian accident is liable for the full spectrum of damages they inflicted. Many pedestrian accident cases involve catastrophic personal injuries that entail long-term or permanent disabilities, such as traumatic brain injuries and spinal cord injuries. Under California's personal injury laws, the plaintiff has the right to claim compensation for both immediate and future medical care they need following a pedestrian accident in the Pomona area. Your attorney can consult your doctors to ensure that all the injuries you suffered in the accident receive appropriate consideration in your case against the defendant.
Similar to your immediate and future medical expenses, you also have the right to claim compensation for lost income and lost earning power. Many people injured in pedestrian accidents are left unable to work for extended periods of time, resulting in significant cumulative losses once they calculate how much they would have been able to earn if they hadn't been injured. A good attorney can help their client accurately assess lost future earning power based on the income the victim could have reasonably expected to earn if they hadn't been injured, adjusted for inflation, and the number of years they would have continued to work until retirement.
After calculating all the immediate and future economic damages you can seek from the defendant, you may discover that your case is worth much more than you expected at first. However, the state's personal injury laws also allow you to claim compensation for your pain and suffering, and there is no limit to how much you can receive for your intangible damages. Your Pomona pedestrian accident attorney can help determine a suitable figure that reflects the physical pain and emotional trauma you suffered because of the defendant's actions.
How Your Attorney Can Assist in Your Recovery
The right legal representative can make a tremendously positive difference in the outcome of your impending pedestrian accident claim. You face several significant challenges in recovering compensation for your damages, from proving liability to establishing the full extent of your losses. Your recovery may begin with a claim against the at-fault driver's car insurance policy, and dealing with an insurance company will be much easier with an experienced attorney's assistance.
When you choose Belgum, Fry & Van Allen as your legal representatives, we will immediately set to work helping you gather whatever evidence may be necessary to prove fault for your pedestrian accident. This may involve consulting local law enforcement to help you identify a hit-and-run driver, securing traffic camera footage, and issuing a subpoena for the at-fault driver's cell phone records.
Pedestrian accidents most often occur because of negligence, such as distracted driving, moving violations, or speeding. In these cases, at-fault drivers face full liability for the damages they cause. However, if a pedestrian accident happens because of illegal misconduct, such as driving under the influence (DUI) of alcohol or drugs, the defendant faces criminal prosecution as well. This may translate not only to harsher penalties for the defendant because they caused bodily harm but also greater compensation for the victim in the form of punitive damages and/or restitution awarded by a criminal court judge.
Ultimately, every injured pedestrian in Pomona will have a unique experience as they seek compensation for their damages, and the right attorney is an invaluable asset for any plaintiff who intends to maximize their recovery. When you hire Belgum, Fry & Van Allen to represent you, you will have a dedicated legal advocate readily available to address your concerns, answer your questions, and provide guidance and support through every stage of your recovery efforts. You have a limited time in which to pursue your recovery, so it is important to reach out to a Pomona pedestrian accident attorney you can trust as soon as possible after your accident.
FAQs About Pomona, CA Pedestrian Accident Laws
What Happens if a Driver Hits Someone Without Insurance?
If you were injured by an uninsured driver in Pomona, you have the right to proceed directly to filing a personal injury claim against them. The at-fault driver would not only face liability for your damages but also legal penalties for failure to follow the state's law regarding auto insurance coverage. Whether the defendant in your case has insurance or not, your Pomona pedestrian accident attorney can be invaluable for the help they can provide through all your recovery efforts.
Do Pedestrians Always Have the Right of Way?
Yes, pedestrians always have the right of way, meaning drivers must always yield to pedestrians even if they cross streets illegally outside of designated crosswalks. However, this does not mean a pedestrian cannot face liability for their injuries if they contribute to causing a pedestrian accident. If a pedestrian was negligent in a way that contributed to their accident, they would lose a percentage of the compensation recovered from the defendant to reflect this.
How Much Is My Pedestrian Accident Claim Worth in Pomona?
Once you prove that another party is liable for your recent pedestrian accident, you have the right to hold them fully accountable for all damages they inflicted. These damages are likely to include immediate and future medical bills, lost income, lost future income if the victim cannot return to work because of their injuries, and pain and suffering compensation. Your Pomona pedestrian accident attorney can help calculate the total damages you can seek from the defendant in your claim.
How Does Comparative Fault Work in Civil Cases?
Under California's pure comparative fault rule, every party sharing liability for damages will incur a fault percentage. This can include multiple defendants and/or a plaintiff if they are proven to bear partial liability. When a plaintiff has a fault percentage assigned, they will lose this percentage of their case award. For example, a 10% fault in a one-million-dollar claim would mean the loss of $100,000 in compensation. You must consult a Pomona pedestrian accident attorney if you are concerned about partial fault you may bear for your recent accident.
What Does It Cost to Hire a Pomona Pedestrian Accident Attorney?
The majority of attorneys representing personal injury claims do not charge upfront or hourly rates and instead accept cases on contingency. When you sign a contingency fee agreement with an attorney, you will not pay typical attorneys' fees and are instead agreeing to pay the attorney a percentage of whatever compensation they recover from the defendant for you. However, if the attorney cannot recover compensation for your damages, you are not required to pay any fee. The attorney's fee is entirely contingent upon their ability to recover compensation for you.
The team at Belgum, Fry & Van Allen has helped many injured pedestrians recover from their accidents, and we know how damaging these experiences can be. We will assist our client in gathering whatever evidence they may need to establish fault and prove the full extent of their damages. The sooner you reach out to our team for assistance, the sooner we can begin building your case, so contact us today and schedule your free consultation with a Pomona pedestrian accident attorney you can trust with your claim.