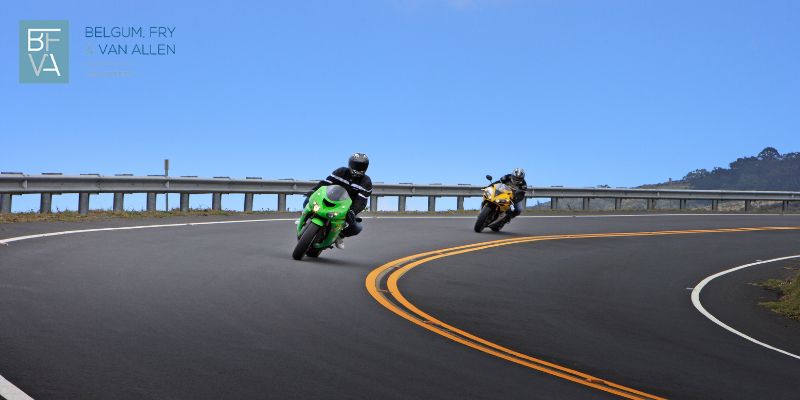 West Covina Motorcycle Accident Attorney
A motorcycle can be fun to ride, but these vehicles are inherently more dangerous than any enclosed passenger vehicle. A motorcycle does not offer much physical protection from crash impact forces as a car, which typically features a frame designed to crumple and absorb impact in a collision. Motorcyclists are also thrown from their bikes in serious accidents, and motorcycles do not feature seatbelts, airbags, or any other safety features found standard in most passenger vehicles. When a motorcycle accident happens, the rider is likely to suffer serious injuries from the primary impact with the other vehicle and the secondary impact of hitting the ground.
Helping Motorcycle Accident Victims Recover in West Covina, CA
Even the most experienced and cautious motorcyclists must acknowledge the risks they face when they ride near larger vehicles. Unfortunately, even the most careful riders cannot always predict how other drivers around them will behave. If you recently sustained injuries in a motorcycle accident caused by someone else, you need a West Covina motorcycle accident attorney to help you hold them to account.
The attorneys at Belgum, Fry & Van Allen have years of experience handling all types of personal injury cases in West Covina, including those arising from motorcycle accidents. These vehicle accident cases tend to involve more significant damages than most other vehicle accident claims, with many plaintiffs facing long-term medical complications from the injuries. Our team will help you uncover every channel of recovery available to you and guide you through the difficult legal proceedings you face after your motorcycle accident.
Common Causes of Motorcycle Accidents
If any other party caused your recent motorcycle accident through negligence or intentional misconduct, you could seek accountability for the damages they caused. A few of the most commonly cited causes of motorcycle accidents that generate complex insurance disputes and personal injury claims in West Covina include:
Distracted driving, which is responsible for most of the vehicle accidents in the United States each year.
Driving under the influence (DUI). A DUI driver faces criminal conviction if they cause an accident in this manner, with penalties including a fine, jail time, and suspension of the driver's license. These penalties increase automatically when they cause bodily harm or death to another person.
Speeding, which is a leading contributing factor to fatal motorcycle accidents throughout the country. Catastrophic or fatal injuries are most likely when accidents happen at high speeds.
Poor visibility. Motorcycles are more vulnerable in poor driving conditions, especially those that limit other drivers' visibility. Driving at night or during severe weather inherently increases the risk of having an accident, and motorcyclists are especially susceptible in these conditions.
Reckless driving. Similar to DUI, any intentional misconduct behind the wheel or willful moving violations can lead to criminal charges. Penalties for reckless driving automatically increase when the at-fault driver causes injury or death.
These are only a few examples of the ways that motorcycle accidents can happen in the West Covina area. Your legal team will be invaluable for helping you gather the evidence needed to prove exactly how your accident happened and identifying the driver or drivers responsible for the damages you suffered.
Recovering From a Motorcycle Accident in West Covina
Any vehicle accident has the potential to cause life-changing damages to those involved, but this risk is much greater when it comes to motorcycle accidents. After you have identified the party or parties responsible for your accident, the first step in your recovery is likely to be an auto insurance claim. The state requires drivers to have auto insurance that includes bodily injury and property damage liability coverage. If one driver injures another, the injured driver has the right to file a claim with the responsible driver's insurance.
Your West Covina motorcycle accident attorney can make the insurance claim process much easier, reducing the chances of you encountering any unlawful handling of your claim. After securing as much of a recovery as possible through insurance, your attorney will then assist you in building your personal injury case to recover the rest of your damages.
Under California law, a plaintiff in a personal injury case has the right to claim compensation for:
Medical treatment costs. Any motorcycle accident can cause life-threatening injuries. However, if another party caused your recent collision, your West Covina motorcycle accident attorney could help you claim compensation for the full amount of immediate and ongoing medical treatment costs you face from the accident. This would include future long-term care if you suffered a severe injury that requires rehabilitative treatment.
Lost income. Any motorcycle accident victim could be left without the ability to work until their injuries heal. If this applies to your situation, your legal team can assist you in holding the at-fault driver accountable for the lost income you experienced, as well as compensation for any vacation time you were forced to use after the accident.
Lost earning power. Unfortunately, some motorcycle accident victims cannot work because of how serious their injuries are. If you experienced any loss of earning capacity from your accident, your West Covina motorcycle accident attorney could help you calculate the future income you are no longer able to earn and add this as economic damages in your personal injury case.
Pain and suffering compensation. You can seek financial compensation for the physical pain and emotional distress the at-fault driver caused you to suffer. Your attorney will help calculate an appropriate amount based on your condition following the accident.
If you secure reliable legal counsel as soon as possible after your motorcycle accident, you may be surprised to learn that you can claim far more compensation than you may have initially expected. If you want the best chance of securing the greatest case award possible, the team at Belgum, Fry & Van Allen has the experience and resources you need on your side to reach the best outcome for your recovery efforts.
FAQs About West Covina, CA Motorcycle Accident Law
Do I Really Need to Hire a West Covina Motorcycle Accident Attorney?
There is no law requiring you to hire legal counsel to pursue compensation for damages from a motorcycle accident. However, you have a much better chance of maximizing your total compensation when you have experienced legal counsel on your side. Your attorney can not only help you with an initial auto insurance claim against the at-fault driver but also help you file a personal injury case when insurance alone isn't enough to compensate your losses. In addition, your attorney can make every aspect of your recovery efforts easier to manage and more likely to generate positive results.
How Much Does a West Covina Motorcycle Accident Attorney Charge for Representation?
It's natural to worry about potential legal fees when you need to hire an attorney after a motorcycle accident. The attorneys at Belgum, Fry & Van Allen operate on a contingency fee basis to ensure our legal counsel is accessible to those who need it most. With this billing arrangement, you pay nothing up front and no ongoing legal fees. You only pay a fee once we win your case, and your fee is a percentage of the total compensation obtained.
What Happens If I am Partially at Fault for My Recent Motorcycle Accident Injury?
California law upholds the pure comparative negligence rule when a plaintiff shares liability for their damages in any personal injury case. The judge overseeing your case will assign you a fault percentage to reflect your level of liability for causing the accident. This percentage is then deducted from your final case award. For example, if you are found to bear 40% of the fault for your motorcycle accident, you would lose 40% of your case award and only receive 60% of the total damages you claimed from the defendant.
What Happens If a Motorcycle Accident Is Fatal in West Covina?
If you have lost a family member in a fatal motorcycle accident, you likely have grounds to file a wrongful death claim against the driver who caused the accident. While this type of civil case is similar to a personal injury claim, it seeks compensation for the family's losses. An experienced attorney will help navigate the complex case proceedings your wrongful death suit will entail and guide you toward the best possible outcome.
How Much Compensation Can I Receive for a Motorcycle Accident?
You could be entitled to claim more compensation for your recent motorcycle accident than you initially expected, and the best way to maximize your recovery is by hiring an experienced West Covina motorcycle accident attorney to represent you. You should expect to recover full repayment of all your economic losses along with appropriate financial compensation for the pain and suffering you experienced. Your attorney will advise you as to the total amount of compensation you can reasonably expect if you succeed with your claim.
The attorneys at Belgum, Fry & Van Allen have helped many motorcycle accident victims in the West Covina area approach their cases with greater confidence and recover substantial case awards for their motorcycle accidents. If you are reeling in the aftermath of a motorcycle accident someone else caused, our firm will assist you with your recovery. Contact us today and schedule a free consult with a West Covina motorcycle accident attorney you can trust with your case.