West Covina Car Accident Attorney
Getting into a car accident is a traumatic experience. Whether the collision is a small fender bender or something more serious, many drivers experience anxiety about driving after they get into an accident. Because of this, and for personal safety, most people try their best to avoid getting into an accident.
Unfortunately, whether you get into an auto accident is not always up to you. Other drivers' behavior can cause considerable damage and injuries, even if you are driving safely and responsibly. In these situations, it is easy to feel frustrated, discouraged, and even depressed because you were the victim of an accident that was not your fault.
Although no amount of legal action can undo what happened, you can take steps to achieve compensation for your suffering. Although you may already be physically hurt, a personal injury car accident claim can keep you from suffering financially as well. With the help of an experienced West Covina auto accident attorney, you can receive the compensation you deserve for car accident injuries that were not your fault.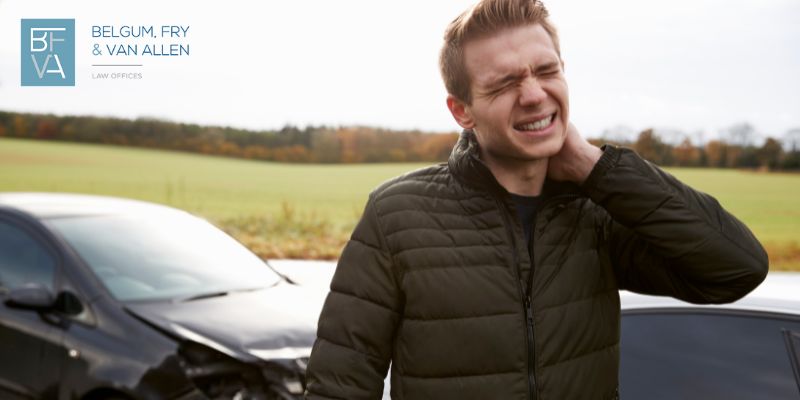 Belgum, Fry & Van Allen: Your West Covina Car Accident Attorneys
For car accident cases, there is no firm better equipped to handle your case than our expert personal injury attorneys at Belgum, Fry & Van Allen. Our team has helped hundreds of individuals and families navigate their car accident claims, and we can do the same for you. Our experience in this area is unmatched, as we have spent decades fighting for our clients in the personal injury sector.
Not all personal injury lawyers are the same. Our team stands out because we have compassion as well as experience. We know that you are likely frightened or anxious about your case, and we promise to do everything that we can to temper your fear and help you navigate your case with confidence. Although we have done this hundreds of times, we understand that this may be your first foray into the legal sector. Because of this, we extend compassion, patience, and understanding to all our clients.
Although we show kindness to you and your family, we are ruthless in the courtroom. We have no patience for individuals who cause harm to others, and we will fight mercilessly for your rights. No other West Covina auto accident law firm can fight as tenaciously for you as we do. We have the best car accident lawyers in the area, and we are the best choice for your case.
What Is a Car Accident Claim?
Although car accidents are common, many people do not know about the legal system that allows victims to seek reparations. Car accident claims help hold responsible parties accountable for their actions.
Car accident claims are one facet of the personal injury sector. In these situations, victims may come forward and press charges if the person who caused their injuries did so through negligent actions. In car accident cases, an individual may file a claim if they were injured in a car accident caused by another's negligence.
Common types of negligence while driving include:
Texting, talking, or otherwise using the phone
Eating, drinking, etc.
Turning to interact with passengers or items in the car
Becoming distracted by something on the side of the road
Driving while under the influence of drugs, alcohol, or other controlled substances
Speeding
Engaging in road rage, risky maneuvers, or street racing
Ignoring road signs, signals, or rules
This is not an exhaustive list of negligent driver behaviors. In fact, any situation in which a driver breaks the law is a situation of negligence. When drivers get their licenses, they must prove that they know the laws and promise to follow them. If they fail to do so, they are neglecting their responsibility and may be held legally accountable.
Although a car accident claim cannot undo the damage that the other person caused, it can ensure that they are financially responsible for the consequences. This includes costs such as medical bills, time spent out of work, and more.
Why Do I Need a Car Accident Lawyer?
Although the law does allow individuals to represent themselves in these cases, it is extremely unwise to do so. Most people who represent themselves lack the training and experience that are necessary to prove their case. Although the situation may seem obvious to you, the court requires very specific proof and arguments to hold someone legally accountable for an event. You must definitively prove that the driver's negligence was responsible for your injuries. If you cannot do so, the court cannot convict, and you will lose your claim.
There is a significant amount of money at stake in these cases, especially if you were seriously injured. Medical bills are often expensive, and the settlement should cover this amount. By representing yourself, you are risking a large amount of money as well as the financial security of your family. Few families can afford expensive and unexpected medical bills, so it is important to make your best effort to win your claim. Hiring an attorney is the most effective way to do this.
You must also consider your own health and wellbeing when deciding whether to hire a lawyer. Healing is a delicate process, and stress can halt or reverse any progress that you have made. If you are representing yourself, you must:
Collect evidence.
Formulate an argument.
Adhere to court rules.
Attend court.
The added stress this will cause is highly likely to harm you further. When you are going through the healing process, it is best to give yourself time and space to recover and leave the legal stress to the professionals at Belgum, Fry & Van Allen.
Proving Negligence in a Car Accident Injuries Claim
As mentioned, negligence is key in car accident claims. Without proving negligence, you cannot win your case. This can be a difficult process, which is surprising to many of our clients. To prove negligence in court, precise argumentation and proper evidence are required.
There are many possible forms of evidence that can help to prove negligence in your car accident claim. They include:
Medical records and reports from medical professionals
Photos of the damage
Photos of any injuries
Video or CCTV footage showing any part of the accident
Interviews with or statements from eyewitnesses
Testimonies
A digital recreation of the accident
Your attorney's job is to collect the necessary evidence to argue your case. You can help by disclosing all relevant information to your attorney and documenting the accident and resulting injuries as much as possible. Retain all medical records and notes from your doctors, as well as bills or receipts from your treatment.
What to Do After a Car Accident
Although you may not be able to avoid a car accident, there are steps you can take to preserve your case and give yourself the best chance of winning a settlement.
Your health and safety are the top priorities after an accident. If you lose consciousness, cannot move, or cannot feel parts of your body, remain where you are until professional help arrives. Moving can cause further damage and ultimately harm your case.
If you can safely do so after the accident, you should:
Exchange information with the other driver, including license, insurance, and contact information.
Take photos of physical damage to both cars and the surrounding area, including debris.
Take photos of your injuries as well as the injuries of anyone else involved.
Ask witnesses for their names and contact information.
If the police arrive, note the case number and badge numbers of any officers involved.
Call your attorney.
Following these steps can help preserve your case and give you the best chance of winning. By taking photos and videos, you can protect evidence that would otherwise be lost.
Civil vs. Criminal Car Accidents
The United States legal system is broken into two distinct categories: criminal law and civil law. Criminal law involves the state or federal government bringing a case against an individual or a company for something that they have done wrong. This is how the government enforces the law and fairly determines punishments. Civil cases occur when one person or business brings a case against another person or business for harm that they have caused. While criminal cases often result in incarceration, fines, and other legal repercussions, civil cases usually only aim to gain a settlement from the responsible party.
Personal injury claims fall under the category of civil law. This means that the other person will not go to jail or prison if you win your case. However, your claim may exist in conjunction with a criminal one. In some car accident situations, you may be able to press charges for damages while the government takes the individual to court for breaking the law.
For example, if you get hurt in a hit-and-run accident, you can file a claim against the defendant for harming you, while the government files charges to punish the defendant for leaving the scene of the accident.
In civil cases, the prosecution (you) can drop the charges at any time if they wish to do so. In criminal cases, the government rarely drops charges unless there is significant evidence that the defendant is not guilty.
Car Accidents and DUIs
Unfortunately, driving under the influence of drugs or alcohol (DUI) is a common occurrence. When a driver is impaired, they can easily cause car accidents and harm other people. For this reason, it is common for a car accident claim to exist alongside a DUI charge. DUI charges are criminal, while your personal injury claim remains a civil charge.
If you are injured by an impaired driver, their DUI case may help you prove your claim. If the criminal court finds the person guilty of committing a DUI, you have considerable evidence to prove negligence. This can make it easy to draw a line between the other person's actions and your injuries.
It is important to understand that DUI cases are complicated and may take more time than a straightforward car accident claim. However, it is still worth seeking compensation if an impaired driver has injured you.
Wrongful Death and Car Accident Victims Claims
In some situations, victims do not survive car accidents. These situations are often especially difficult for the family and leave them in a vulnerable financial state. Fortunately, the law can help.
Wrongful death cases cover situations in which a person dies because of the negligence of someone else. The criteria are nearly identical to those for a personal injury claim, except that the victim passed away instead of only suffering injuries. In these scenarios, the family can take legal action to achieve a settlement from the person responsible for their loved one's death. This settlement may cover:
Burial and funeral expenses
Lost income
Medical bills associated with the incident
Pain and suffering, in extreme cases
Although this money cannot undo the pain that the family must endure, it can give them the financial support that they need to heal. If you lose a loved one, a wrongful death claim allows you to focus on your grief rather than worrying about finances.
Car Accidents and Insurance
It is extremely important to avoid talking to insurance adjusters until after you have contacted your attorney. Although many people believe that insurance companies exist to help, in reality they are simply concerned with their profits and bottom line. They will do everything they can to avoid paying for your accident. This often involves constant requests for information, asking loaded questions, and attempting to make you admit fault or release your right to a personal injury claim.
When you hire an attorney, we can speak with insurance companies on your behalf. We know how to answer their leading questions without admitting fault or giving away your case. This can protect you and ensure that you get the best possible settlement.
Professional Drivers
Although many people believe that professionals such as semi-truck drivers cannot cause accidents, the reality is much different. Just because an individual is licensed to operate a certain kind of vehicle does not preclude them from causing damage. Professional drivers can easily cause accidents, just like any other driver.
If you get into an accident with a truck or other commercial vehicle, it is especially important to hire an attorney right away. The driver's legal team will try to use their professional status to avoid fault, and you need a qualified attorney to refute their claims and prove negligence. Do not let professional drivers fool or intimidate you. They are just as capable of being negligent as anyone else on the road.
FAQs About West Covina, CA Car Accident Law
How Much Can an Accident Lawyer Charge?
Usually, attorneys charge between 33% and 40% of the settlement value. However, every law firm is different. Some attorneys charge different percentages, while others charge by the hour. Rates usually reflect experience, time spent in the field, the complexity of your case, and more. It is important to discuss fees with any attorneys that you consider working with. You must be sure that you can afford their services, or you risk losing representation during your case, which can ruin your claim.
How Much Is the Average Car Accident Settlement in California?
The average car accident settlement in California is approximately $21,000. Your settlement will depend upon many different factors, including the:
Severity of your injuries
Extent of the damage
Amount of negligence involved
Skill of your attorneys
Qualified attorneys usually achieve higher settlements than attorneys without significant experience in the field. Individuals who represent themselves receive far less on average than those who hire an attorney to represent them.
When Should You Hire a Personal Injury Lawyer After a Car Crash?
As soon as possible. The sooner you hire an attorney, the more effectively we can build your claim. The longer you wait, the more evidence may be compromised or lost. When you hire your West Covina car accident lawyer right away, you can also allow us to speak to insurance companies on your behalf. This is crucial for maintaining your case and preserving your rights, as insurance companies often use predatory tactics to avoid paying for a car accident settlement.
What If I Am Permanently Disabled After a Car Accident?
If you have severe or permanent injuries, you are more likely to get a large settlement from your car accident case. However, the settlement may not be enough to sustain you. You may have access to vocational retraining if you must switch jobs. There are also state and federal disability programs that can help supplement your settlement and give you ongoing financial support. We have vast experience in this area and can alert you to opportunities based on your situation.
Contact Belgum, Fry & Van Allen
After a car accident, you need a team that can protect your rights, fight for your family, and achieve the best possible results in your case. Our team at Belgum, Fry & Van Allen offers industry-leading legal resources after a car accident. Learn more by contacting Belgum, Fry & Van Allen online today.